'Half-Life: Alyx' release date, characters and other Valve VR leaks and rumors
Not exactly the 'Half-Life 3' fans have been waiting for.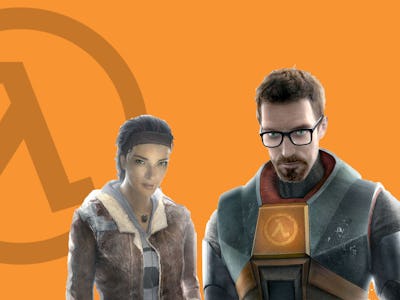 Valve
Valve's award-winning sci-fi shooter Half-Life will make a triumphant comeback Thursday, but it's not exactly what diehard fans have spent the better part of 12 years waiting for.
The developer announced it would unveil its new "flagship virtual reality" title Half-Life: Alyx at 1 p.m. Eastern November 21, as part of the three full-length VR games it promised to fans back in 2017. Sadly, this likely means that Half-Life 3 — the final entry of the 21-year-old franchise — is still years away. But based on Valve's track record with the series, Half-Life: Alyx could take VR gaming to the next level.
Half-Life (1998) is widely considered one of the most influential games of all time. It refined the chore mechanics of first-person shooters and sparked a plethora of fan-made mods that eventually became their own standalone games, like Counter-Strike.
2004's Half-Life 2 upped the ante, praised for its advanced physics, animations, and storytelling. Valve took home the 2012 Spike Video Game Awards "Game of the Decade", securing the series' place in the annals of gaming history. It was followed by two shorter, episodic installments: Half-Life 2: Episode One and Half-Life 2: Episode Two.
Half-Life: Alyx most likely won't conclude the journey of series protagonist Gordon Freeman, but it offers Valve another opportunity to assert itself at the cutting edge of gaming.
The company recently released its Valve Index VR headset, so launching a Half-Life VR game months afterwards was no coincidence. Valve is clearly looking to boost hardware sales, but if Half-Life: Alyx is as innovative as its predecessor it could be the title that finally brings VR gaming into the mainstream.
When is the Half Life: Alyx release date?
Valve will offer more details about its newest VR game on Thursday, when fans can expect a teaser trailer and a release date window. But past leaks that predicted the announcement of Half Life: Alyx also included a potential release date.
A now-deleted, but widely circulated alleged transcript of an unpublished interview stated that the title would be released in March 2020. The interview was allegedly between games journalist Geoff Keighley, Valve developer Robin Walker, and an unnamed third Valve employee, which the leak speculates could be co-founder Gabe Newell.
The document also states that the game will be demoed at the The Game Awards on December 12, which will be hosted by Keighley. So Half-Life fans might be in for a rapid fire of exciting updates after years of drought.
What platforms will Half Life: Alyx be on?
We'll know more Thursday, but for now it's a safe bet to assume that Half Life: Alyx will be exclusively designed for PC VR systems. Sorry, console gamers.
Valve has apparently gone all-in on VR over the past few years. Newell told The Verge in 2017 that the company was "building three full games, not experiments" and that he believed there would be big strides in VR tech over the next "two years."
The company is unquestionably trying to be the driving force behind bringing VR gaming into the mainstream. Presumably, the best way to do so is developing games exclusively for those platforms. It seems like you'll need a suitable gaming PC plus Valve Index, HTC Vive or Oculus Rift hardware to play Half Life: Alyx. All of that will easily cost a hefty sum of cash.
What will Half Life: Alyx be about?
Valve hasn't provided any details on the plot of Half Life: Alyx. But its title and the the Half-Life super fans of Reddit have offered a few plausible plots.
Most fans anticipate it being a prequel about Alyx Vance's backstory, not a direct continuation of the events that occurred after Half-Life 2: Episode Two. That could mean that, for the first time in the franchise's history, Gordon Freeman might not be part of the story at all.
Heavy spoilers for the entire Half-Life series ahead.
Episode Two ends in a colossal cliffhanger, with Gordon and Alyx knocked unconscious as the Combine — a multidimensional empire that conquered earth in less than a day — kill Alyx's father. It's possible that Gordon is so badly injured that Alyx continues fighting the Combine as he recovers, but that would seemingly step on Half-Life 3's toes, which is still possibly years down the line.
Instead, fans believe Half-Life: Alyx will fill the gaps between Half-Life (1998) and Half-Life 2.
"It always bothered me a bit how little we know about the time between hl1 and 2 but now since that's the case, it means that there's not a lot of things that will restrict their creativity if they want to still keep the story consistent," wrote Redditor /u/Nightynightynight. "They have a lot of freedom with this new game, despite it being set between two games in an old and long running series."
Most predictions argue the upcoming VR title will tell the story of the Combine taking over Earth, the rise of the resistance, and the characters Gordon met throughout Half-Life 2. But there's also a lot of hope that it will answer questions about the series most mysterious character: The G-Man.
Throughout the Half-Life games, Gordon is followed by this seemingly omniscient puppet master. He's the force behind a plan that uses Gordon, Alyx, and the game's other characters as pawns. Half-Life: Alyx might explore how Alyx fits into his devious plot and what that could mean for the story moving forward.
"It'd be a pretty obvious move, really, to show [the G-Man] somewhere on the background, watching, or maybe give him a short cameo," wrote Redditor /u/InandOut51. "It would still make sense for Alyx to never think twice about some random guy in a suit, but for the players it'd be an amazing reference and another great 'G-man is behind everything' moment."
Half-Life: Alyx is expected to only be released for VR systems… eventually.