Yes, that is Brian Posehn from 'Sarah Silverman' in 'The Mandalorian'
A comedian who hates Star Wars because he used to love it is now a part of it.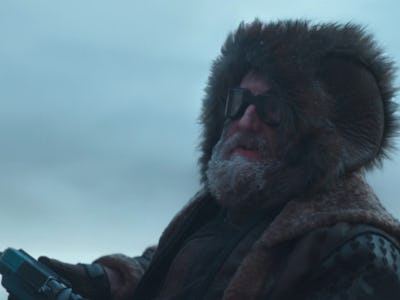 Lucasfilm
If you were watching the first episode of The Mandalorian and, upon seeing that one speeder cabbie, you thought to yourself, "Is that the guy from The Sarah Silverman Program and/or Mr. Show with Bob and David?"
The answer is yes. Yes, that is Brian Posehn.
On Tuesday, Disney launched its original streaming service Disney+. In addition to offerings from Pixar, Marvel, as well as many classic movies from the "Disney Vault," the platform is streaming the first live-action Star Wars series.
The Mandalorian, set after Star Wars: Return of the Jedi, follows a nameless bounty hunter (Pedro Pascal) who takes up a dangerous job in the far edges of the known galaxy. The first episode is available now to stream, while the rest of the season will premiere weekly on (most) Fridays until December 27.
The beginning of the series sees the Mandalorian apprehend a young lowlife in a bar on some remote ice planet. In hailing a ride back to his ship, the Mandalorian rejects a top-of-the-line speeder (because of its droid driver), which forces him to accept a ride from the next one, a total clunker. At least it's driven by a human — a human played by Brian Posehn, a comedian famous for his nerdy/stoner persona and humor.
Posehn is best known for his role as writer on the cult HBO comedy series Mr. Show with Bob and David and as Sarah Silverman's gay neighbor Brian Spukowski on The Sarah Silverman Program. He's also done a ton of cartoon and video game voice work, including guest episodes on Disney's Kim Possible, Aqua Teen Hunger Force, Steven Universe, and games like Halo 2 and Brütal Legend.
And yes, like any Xennial nerd, he's a huge, huge, Star Wars fan. Some of his stand-up routines have centered around his love/hatred/love again relationship with the mega-franchise. Take for example this lengthy bit from his 2013 special The Fartist, where he claims to still freak out about Star Wars not because he loves it, but because he hates it because he used to love it. "And it betrayed me," he jokes. "I totally take it fucking personally."
"I fucking hate the special editions. I'm losing my mind pointing at the display, I lose my mind in a public place, 'Fuck you George Lucas, you don't get my money.' My wife is like, what is wrong with you? We're in a Target you weirdo. What are you doing? I can't even articulate my anger to my sweet, sweet wife. I just point to the display going, 'Bwuhh bwufff bwuhh!'"
He continues, "It's my Vietnam."
Miraculously, his dragging of the franchise in 2012 (and again in 2016) didn't deter his chances to play a part in it. On Twitter, Posehn confirmed his involvement in the first episode, sharing a selfie of himself in front of his TV streaming The Mandalorian in the wee hours of 1 a.m. local time.
"Ecstatic nerd in nerd cave freaking out over being in Star Wars canon while family sleeps," he tweeted. "Holy shit! #TheMandalorian"
Congratulations Brian, you're living the dream. You even got a better, cooler death than Boba Fett.
The Mandalorian is streaming now on Disney+.