Matt Reeves' 'The Batman' movie may have just cast its Batgirl
Whether or not Jayme Lawson will actually play Batgirl, she at the very least fits the part.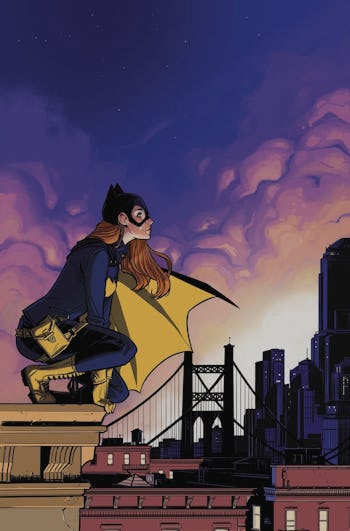 DC Comics, Christian Wildgoose via CBR
With so much of Matt Reeves' The Batman shrouded in as much mystery and enigma as Bruce Wayne, it's hard to guess which characters from the comics could be supporting characters in the movie. So we're going to take a wild guess and speculate if the film's newest hire is, in fact, Batgirl.
On Monday, Collider reported that Jayme Lawson, a very recent graduate of the prestigious Juilliard School, is tapped for "a notable role" in The Batman. The film will star Robert Pattinson as Batman, taking over for Ben Affleck, with uncertain connective ties to the existing DC "Extended Universe" franchise.
Collider notes that while Lawson does not yet have an IMDB page, she is signed to United Talent Agency. At Juilliard, some of Lawson's biggest roles include Juliet in a production of Romeo and Juliet and a dual role of Halmet and Guildenstern in Hamlet. She has also portrayed Lady Macbeth in a production of Macbeth outside Juilliard. Her downloadable resume notes that she has additional skills in choreography, directing, and West African dance.
Lawson's role in The Batman is unknown. But we know enough about The Batman that Lawson will not play Catwoman, which went to Zoe Kravitz. However, one previous announcement, actor Jeffrey Wright (Westworld) as Commissioner Jim Gordon, fuels the possibility of Lawson as Barbara Gordon, Jim's twenty-something daughter and PhD student at Burnside College who dons the cape of Batgirl.
Like Barbara, Lawson is a young woman whom you could imagine putting on mask and purple costume to fight crime. But it should be said that just because two actors are Black does not mean their characters will have any connection.
Furthermore, there is still development of a separate Batgirl movie, one written by Bumblebee scribe Christina Hodson. Thus far, there is no shared connection between The Batman and the Batgirl movie, other than Warner Bros. and the vague possibility both will take place in the "DCEU" sandbox.
Lastly, there's the matter of timing. The Batman is said to explore Batman's very early days as a crimefighter. Bruce Wayne has at least a decade over the other members of his Bat-Family; it would be at odds if Bruce and Barbara were of similar age when Bruce is only getting started as Batman. Then again, the DCEU started with an aged Batman against a very fresh Superman.
At the same time, the possibility of a Black woman as Batgirl is exciting. Thus far, the only woman of color to have played Barbara Gordon on film has been Rosario Dawson, in a minor role in the 2017 animated feature The Lego Batman Movie; voice actor Kimberly Brooks has played Barbara/Batgirl in a number of games, including the popular Batman: Arkham series.
Will Jayme Lawson play Barbara Gordon/Batgirl? No one from the film's production, including studio Warner Bros., have publicly acknowledged Lawson's casting, let alone revealed her role. For now, like it is in the DC Universe, Batgirl's identity is still a secret.
The Batman will be released in theaters on June 25, 2021.