The DCEU (and 'The Batman') finally has a Catwoman, and it's Zoë Kravitz 
Gotham City's most infamous cat burglar is back.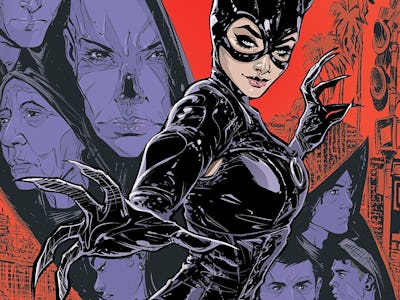 DC Comics
Someone has finally picked up the catsuit and whip of Catwoman in the DC "Extended Universe," and it's Zoë Kravitz, who's set to star as Selena Kyle across from Robert Pattinson in The Batman.
On Monday, multiple outlets including Deadline, Variety, and The Hollywood Reporter confirmed that Kravitz will play Catwoman in The Batman, the new Batman reboot from director Matt Reeves. The movie stars Pattinson, who takes over the cowl from Ben Affleck in a younger version of Gotham City's vengeful detective. The film will be released on June 25, 2021.
And while there's been some debate over whether or not The Batman is part of the DCEU or a standalone story like Joker, Reeves himself seemed to confirm that it's a part of Warner's shared superhero universe back in 2017. In a series of tweets, he walked back an earlier interview that suggested his movie wasn't part of the DCEU, writing, "Just to be clear: Of COURSE Batman will be part of the D.C. Universe. Batman will be BATMAN…"
In the history of Catwoman, Kravitz will be the latest to join the ranks of Michelle Pfeiffer (Batman Returns, 1992), Halle Berry (Catwoman, 2004), and Anne Hathaway (The Dark Knight Returns, 2012) who portrayed the character on the big screen. Other actors to have donned the cat ears include Cameron Bicondova, in the FOX television series Gotham, and Julie Newmar, Meriwether, and Eartha Kitt, who played Catwoman in the 1966 television series Batman.
Little is still known about The Batman, including its plot and place in the DCEU. While the inclusion of Catwoman and a younger Batman hints at an adaptation of Frank Miller's Batman: Year One, Reeves has strongly denied a connection to the famous comic book story.
"We're not doing any particular [comic]," Reeves told Slashfilm in 2018. "Year One is one of the many comic books that I love. We are definitely not doing Year One. It's just exciting to be focused very specifically on a tale that is defining for him and very personal to him."
He added, "Obviously we're not doing an origin tale or anything like that. We're doing a story that is definitively Batman though and trying to tell a story that's emotional and yet is really about him being the world's greatest detective and all the things that for me, since I was a kid, made me love Batman."
The role of Catwoman isn't Kravitz's first time as a superhero, nor is it even her first time as Catwoman. The daughter of musician Lenny Kravitz and actress Lisa Bonet, Kravitz previously played the mutant Angel in the 2011 film X-Men: First Class. Her career continued to be packed with genre roles, including 2013's After Earth, 2014's Divergent and its sequel Insurgent, and the 2015 film Mad Max: Fury Road. She also voiced Mary Jane in the 2018 Oscar-winning Marvel film Spider-Man: Into the Spider-Verse.
In an amusing coincidence, Kravitz previously played Catwoman in the 2017 CGI animated feature The Lego Batman Movie.
We're now several years into the DC "Extended Universe" (still an unofficial name to anyone at Warner Bros.), yet there hasn't been many appearances from the greater Batman mythology other than villains from Suicide Squad. The 2020 film Birds of Prey will finally introduce Batman-adjacent characters Huntress (Mary Elizabeth Winstead) and Cassandra Cain (Ella Jay Basco), who in the comics takes up the mantle of Batgirl before becoming her own hero, Orphan.
But Robin? Nightwing? Red Robin? Red Hood? Batwoman? Batwing? Signal? Nope. Besides Orphan, no one from the Bat-Family have appeared in the DCEU. And Catwoman technically isn't part of the family either, but out of all of Batman's villains, she's come very close as his on-again, off-again romantic partner. The current Batman series by Tom King (ending at issue #86) is heavily dominated by Batman and Catwoman.
The Batman will be released in theaters on June 25, 2021.