Leaked 'Eternals' set photos reveal 3 new super-suits for the first time
Check out Angelina Jolie and two more Marvel stars in their full Eternals wardrobe.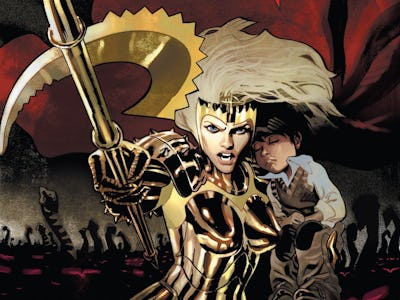 Marvel Entertainment
Marvel isn't ready to show The Eternals beyond that one concept art from San Diego Comic-Con. So leave it to the internet to find out for themselves. The latest leaked set photos revealed our first look at several key characters coming to the Marvel Cinematic Universe in 2020.
On Thursday, UK tabloid Daily Mail obtained new set photos from The Eternals, which is currently shooting in the Canary Islands in Spain with director Chloe Zhao. The photos were taken a day after a bomb scare; an old unexploded device, likely placed by the Nazi army who had a base on the island during World War II, was discovered near the set, which necessitated a temporary evacuation.
With the bomb disposed of by professionals, actors Angelina Jolie, Brian Tyree Henry, and Gemma Chan are seen roaming the Spanish beach in their Eternals costumes. The photos seem to be snapped in between takes, as assistants can also be seen covering Jolie in a thick coat.
These photos are the first time anyone has actually seen any of the Eternals stars in their superhero costumes. At Comic-Con International in San Diego in July, Marvel released concept art that illustrated the actors as their characters. But this is the first time we're seeing them for real in live-action. And while the photos are a bit blurry — as I remarked to a coworker, I felt like I was looking at crime scene evidence — it's still easy to make out Jolie, Henry, and Chan. This is about the closest we get to a post-credits scene until more Marvel movies come out.
Jolie will star in The Eternals as Thena, a powerful alien and gifted intellect. Her co-stars, Gemma Chan and Brian Tyree Henry, play Sersi and Phastos respectively. Sersi, who was born on Earth, desired to live with the humans rather than with her Eternals family. She enters a relationship with Dane Whitman, also known as the Avenger called Black Knight.
Phastos, meanwhile, has a more mysterious history. In addition to his fearsome strength and regeneration abilities, he is also an engineer and inventor.
Created by Jack Kirby in 1976, the Eternals are a family of alien superheroes who must protect Earth as ordered by their creators, the Celestials. The Eternals are pitted against their enemies and evolutionary counterparts, the Deviants. The film is expected to span centuries of human history, depicting the Eternals deeply embedded in several ancient civilizations. Previous other photos confirm that the film will partially take place in ancient Babylon.
The Eternals will be released in theaters on November 6, 2020.