'Death Stranding' release time: Here's when you can download Kojima's latest
It's time to hop onboard the Norman Reedus simulator.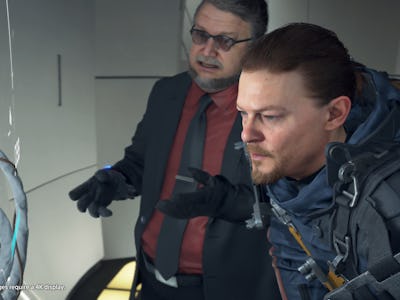 Sony Interactive Entertainment
Hideo Kojima fans have waited four long years to get their hands on the gaming auteur's next big title, ever since he announced his departure from Konami back in 2015. Finally, Death Stranding is nearly here, and whether you've preordered the game or are planning to purchase a digital copy later today, you're likely wondering exactly when you'll actually be able play it. Well, we've got you covered.
Death Stranding will be playable at midnight Eastern time on November 8, meaning late Thursday night or early Friday morning. This means you're in luck if you're on the West Coast: the game will unlock at 9 p.m. Thursday so you won't have to stay up until the wee hours to get a taste of the action. If you've already pre-ordered a digital copy of the game you'll be able to pre-load the file now, though the game won't unlock until the specified time.
Another note for those playing without a physical copy: you'll need about 50GB of storage space on your PS4 to download the game. If you're nearing your limit, consider deleting a few beefy titles before attempting to download Death Stranding. You won't lose your saves for those deleted games, and you'll be able to download them again to your library at any time without cost. Spare yourself the annoyance of leaving the download to do its thing only to come back to an error message that requires you to start all over again. Depending on your internet connection, those big downloads can take a long while — why eat into your precious gaming time?
Thus far, Death Stranding has garnered mostly favorable reviews from major outlets, but some critics haven't been enraptured by that Kojima magic this time around. IGN, for instance, called it a "series of glorified fetch quests" and slapped it with a decidedly lackluster 6.8 score. Others have been more rhapsodic and navel-gazing in their reviews, finding keen satisfaction in the game's deliberately slow pace and complex philosophizing.
No matter where you fall on the opinion spectrum, one thing's for certain: there's never been another game that lets you pee as Norman Reedus and make bombs out of that urine. (That said, there are plenty of games before this one that let you pee.)
Death Stranding is out imminently for PlayStation 4, and will come to PC sometime in 2020.