'Death Stranding' reviews: 4 things we learned about Kojima's grueling opus
Kojima's debut project polarizes reviewers with a beautiful, cumbersome game.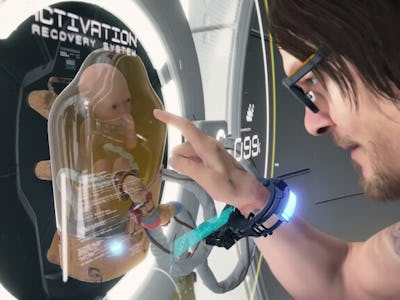 Kojima Productions
After three years of cryptic trailers, Hideo Kojima fan speculations, and theory posts that have driven games journalists to the edge of insanity, the Death Stranding reviews are in — and they're split. Kojima Production's first release has received polarizing first-impressions. Those that fell in love with it were mystified by the game's beauty, design, and ingenuity. But like a lengthy book that starts slowly, even those who gave it rave reviews found it difficult to stick it out for the long haul.
A majority of the reviews published Friday were engrossed by the wild and weird world, characters, and lore that Kojima put forth. But it was the objectively annoying mechanics and in-game mobility that so much of Death Stranding is based on.
It's like best and worst parts of an exhausting hike through a world you've never seen before. Sure it's beautiful, but it just took Sam Bridges (Norman Reedus) half an hour to climb this mountain and one wrong step just sent all of the cargo you he needed for a mission back down to the bottom.
Tim Rogers may have put it best in his review video for Kotaku.
"With Death Stranding Hideo Kojima has finally made a game that's like eating 60 pounds of vegetables at gun point," he said. "Does a silky slab of meat and a triumphant pile of potatoes await afterwards? I won't say."
Here are four things you should know about Death Stranding before you decide if you want to pick it up for PlayStation 4 on November 8.
4. Too much fetching and not enough fighting
Sam is a post-apocalyptic deliveryman operating in a world devastated by a cataclysmic event that has filtered the world of the dead into reality. It's his job to help those affected by the disaster and avoid ghosts, which the Death Stranding calls "BTs." But a majority of your objectives will be delivering a package from Point A to Point B.
Tristan Ogilvie for IGN, who was most critical of Death Stranding, called it a "series of glorified fetch quests." A big part of the 70 main story quests are mailman missions and so are a lot of the optional objectives.
Ogilvie said the game redeemed itself with a "nuanced" combat system reminiscent of the tactical stealth fighting in Metal Gear Solid. But these encounters culminated in big boss fights that end up being "shockingly easy."
3. Beautiful landscapes make the grind bearable
But even with all the potentially boring virtual hiking, Death Stranding's craggy landscapes and vast wastelands stunned reviewers.
Russ Frushtick from Polygon wrote that the game's vistas are "some of the most beautiful I've ever seen in a game." He said that he found himself constantly surveying the environment to discover its secrets and to simply stop and smell the scorched vegetation.
Differing back to Rogers' video review, "Death Stranding is the Gran Turismo of walking simulators."
2. Inventory loadout is annoyingly realistic
Realism is often times praised in a games, but in Death Stranding it makes traversing rocky terrain, rushing rivers, and snowy mountains almost impossible at times.
For every mission, Sam will need to bring specific cargo with him. It's up to the player to evenly distribute it all on Sam's power suit to make sure it (or he) doesn't tumble down a cliff. The more stuff you take the slower Sam is, making certain missions total trudges.
The Verge's Andrew Webster wrote that Sam's "main adversary, at least in the early going, is gravity." So make sure to spend a little extra time on the loadout menu.
1. A commendable dedication to experimentation
But at its core, Death Stranding is an experimental title that has tried to go where other titles have not. That, in and of itself, was seen to be commendable by journalists.
One of the game's headlining, oddball features (or gimmicks depending on how you see it) is soothing BB, the ghost-sensing newborn baby strapped to Sam's chest. If Sam ever takes a hard fall, gamers will need to rock their DualShock controller to calm BB down again or risk not being able to use their ghost-detecting powers.
The wasn't Kotaku news editor, Jason Schreier's, favorite feature, but he tweeted that he's thrilled to see big-name games take risks and go all-in on risky features. It could be a telling sign of mind-boggling console features to come, especially with the PS5's newly announced haptic feedback controllers.
In that sense, Death Stranding could be the beginning of truly innovative virtual storytelling — especially once we find out whatever Kojima Productions has planned for its second game.
Death Stranding will release on PS4 on November 8, and on PC in "early summer 2020."