Disney+ will have even more Marvel movies, plus a new series, at launch
Find out which of the MCU you can stream starting tomorrow when Disney+ launches.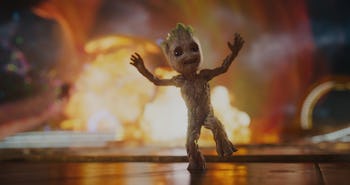 Marvel Entertainment
If you're a Marvel fan who was still not yet sold on Disney+, Disney just gave you a big reason to subscribe right now. On Twitter, the official Disney+ account announced a bunch of "missing" Marvel movies that were previously known to be absent on the service's launch date, November 12.
Not only will there be more Marvel movies available at launch than we previously thought, but there will also be a new series. Titled Expanding the Universe, the series will preview original Marvel shows coming to Disney+. In other words, it's a commercial for future shows like WandaVision and Loki, but hey, at least that's something.
On Monday, @disneyplus tweeted a brief thread announcing more Marvel Studios movies that will be available to stream on Disney+. Previously, only Iron Man (2008), Iron Man 3 (2013), Thor: The Dark World (2013), Avengers: Age of Ultron (2015), and Captain Marvel (2019) were confirmed for Disney+. The film Avengers: Endgame was also confirmed for launch a few weeks later.
Here's all the latest additions to the Disney+ library of Marvel movies:
Captain America: The First Avenger (2011)
Captain America: The Winter Soldier (2014)
Guardians of the Galaxy (2014)
Captain America: Civil War (2016)
Guardians of the Galaxy Vol. 2 (2017)
Finally, Iron Man 2 is available to stream again. There is justice.
While this is more Marvel than we thought, it's still not the whole Marvel Cinematic Universe. Thor: Ragnarok (2017), Black Panther (2018), Ant-Man and the Wasp (2018), and Avengers: Infinity War (2018) are still MIA. However, they are currently available to stream on Netflix. It is understood that when Netflix's agreement with Disney ends, the films will move to Disney+.
Both Spider-Man films, Spider-Man: Homecoming (2017) and Spider-Man: Far From Home (2019) are also missing from Disney+, and will likely never be made available. The film's distribution still lies with rival studio Sony.
Marvel also used the tweet thread to announce Expanding the Universe, which Disney+ only described as "a new look at the original series coming to the service." Currently, only The Falcon and the Winter Soldier is filming, which kicked off production in Atlanta during the late Halloween weekend.
Disney+ will launch on November 12.