'The Mandalorian' spoilers, theories, plot, release schedule, and more
Let's dive into the metaphorical Sarlacc's Pit that is the mystery of 'The Mandalorian'.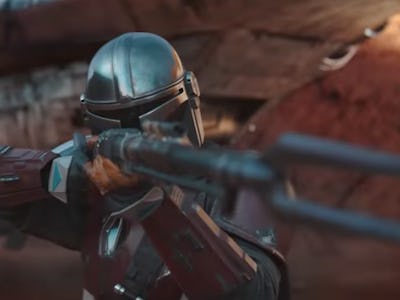 The first live-action Star Wars show premieres in a little over a week, but we still know almost nothing about The Mandalorian. Who is Pedro Pascal's masked bounty hunter? Is he working for the Rebels? And what's with all the Stormtroopers in a story set after the fall of the Empire? The latest (and final) trailer for the Disney+ launch series doesn't really answer any of these questions, but it does tease some exciting new details about The Mandalorian that could reveal at least one unexpected twist.
I'm Jake and this is Multiverse, your twice-weekly guide to the world of geek pop culture. This week we're talking Mando.
But first, answer this question: Who do you think the Mandalorian really is? Boba Fett, freed from Sarlacc's Pit? A clone of Jango Fett? Some totally new character? Snoke? (Just joking, maybe.)
Ok, now let's dive into the metaphorical Sarlacc's Pit that is the mystery of The Mandalorian. Here's everything you need to know, from how to actually watch the show to a shocking prequels connection teased in the latest trailer.
This is a recreation of Inverse's twice-weekly newsletter, Multiverse. Sign up for free.
The Mandalorian might actually be a prequel
Kidding! Well, sort of. In a sense, The Mandalorian is in fact a prequel since it takes place before the current Star Wars trilogy and just a few years after the events of Return of the Jedi. But in the Star Wars universe, "prequel" is a loaded term that refers to the almost universally despised Episodes I thru III. However, it turns out that Mandalorian could also be that kind of prequel, or at least part of it might be.
The new trailer, released monday night, seems to take place largely on Tatooine in a world where the Empire is fallen but the Rebels are still clearing out some lingering Stormtroopers. However, several scenes seem to be flashbacks to the main character's childhood — the big giveaway is the Clone Wars-era super battle droids, but there are plenty of other clues if you look hard enough.
So does some of The Mandalorian take place during the prequels? The answer seems like a very strong yes. Exactly how much remains to be seen, but don't be surprised if we end up spending a decent amount of time in that earlier controversial era of Star Wars history.
There's a big spoiler in The Mandalorian premiere, but don't ask us about it
We've already covered a few Mandalorian leaks, including one rumor about Yoda's connection to the new series, but it turns out there could be a huge spoiler hiding in the first episode. At least, that's what the New York Times reported, revealing that the premiere includes "a dramatic Star Wars-universe spoiler."
Unfortunately, we have no idea what it could be. In an email to the press on Monday, Disney revealed it won't be offering early screeners to anyone in an attempt to avoid spoilers from getting out. So we'll be watching along with you when The Mandalorian debuts on November 12.
How to watch The Mandalorian
Are you excited yet? Me too. Now comes the important part: How do you actually stream The Mandalorian once it's released?
You can sign up for Disney+ now for $6.99 a month or $69.99 per year. That's a pretty good deal if you plan on sticking around for, say, the Loki series starring Tom Hiddleston.
As for the actual release schedule, Disney is ignoring the Netflix dump and binge model and going old-school instead. That means The Mandalorian will release new episodes on a weekly basis with a few weird exceptions.
Here's the full schedule for Season 1:
Episode 1: Tuesday, November 12
Episode 2: Friday, November 15
Episode 3: Friday, November 22
Episode 4: Friday, November 29
Episode 5: Friday, December 6
Episode 6: Friday, December 13
Episode 7: Wednesday, December 18
Episode 8: Friday, December 27
Multiverse Meme of the Week
In other Star Wars news, Game of Thrones showrunners David Benioff and D.B Weiss are officially exiting the Star Wars universe and their planned movie trilogy, which was supposed to debut in December 2022. What happens next is unclear — we have a few ideas — but for now, let's just take a moment to dunk on the two men who flubbed the Game of Thrones finale.
Former GoT podcaster Neil Miller probably put it best in the meme above. (Here's his tweet.) And while you're here, why not relive that original meme in all its glory?
This is a recreation of Inverse's twice-weekly newsletter, Multiverse. Sign up for free.
Thanks for reading Multiverse! If you liked this newsletter, please share it with a friend. Otherwise, my boss may hire a bounty hunter to freeze me in carbonite.
And don't forget to vote in our Twitter poll on the Mandalorian's secret identity. Or, if you prefer to keep things private, just send me your theories at jacob@inverse.com.
Oh, and if you're wondering, Avengers: Endgame absolutely crushed our last Twitter poll about the best superhero movie or show of 2019, but I think that's mostly because The Boys and Umbrella Academy split the vote for edgy adaptation, clearing a lane for Marvel's PG-13 blockbuster. Check out the full results!