National Drug Take Back Day is different this year for one major reason
The DEA is expanding its horizons as a public health threat spreads.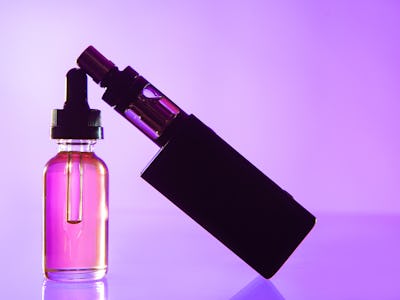 Shutterstock 
In April, people around the country turned in over 460 tons of unused prescription medications as part of National Drug Take Back Day, a semi-annual event run by the Drug Enforcement Agency. This October, the event looks a little bit different. The DEA will now also accept your Dank Vapes, no questions asked.
The DEA will still accept unused and expired prescription drugs as usual, but for the first time, the agency also issued a call for vaporizers and cartridges of any persuasion. That includes vaping devices, nicotine e-liquids, pods, or cartridges from the legal market. But as DEA spokesperson clarified to Inverse they'll also take your THC vape cartridges, even if purchased illegally. In fact, they would advise people to drop off their tainted and illegal vape products rather than let them accumulate at home, and confirmed that it's an anonymous service:
"Anyone can bring their vaping products – licit or illicit – to a Take Back location near them on October 26," DEA Spokesperson Katherine Pfaff tells Inverse. "Take Back is an anonymous service – no questions asked."
If you want to safely dispose of a black market vape product, a legal one, or any unused prescription drugs, you can find a place to drop them off here. Drop offs will be accepted between 10 a.m. and 2 p.m.
When it comes to dropping off vaporizers, the DEA will only accept devices after lithium ion batteries have been removed. For something like a JUUL, which has a lithium ion, batteries can be removed at home, but the DEA advises that anyone who's wondering about how to get rid of a battery contact a "large electronic chain store" where they might be able to find guidance.
But if you want to get rid of cartridges or pods, the procedure is simple: Just turn them in. If those cartridges are black market THC vapes, it may feel nerve-wracking to turn them in to the DEA, but this year, getting rid of those potentially tainted products may be a really good idea.
What products should you turn in?
Since august, 1,604 patients have fallen ill with a vaping-related lung injury that's now called e-cigarette, or vaping, product use associated lung injury — EVALI for short. Thirty-four patients have died.
Though not all cases have been linked to THC vape cartridges, Anne Schuchat, M.D., the CDC's Principal Deputy Director, noted that there is "a greater concern around THC containing products."
Crucially the DEA will basically take any vape cartridge, but the black market cartridges may pose particular risks when it comes to vaping-related lung-injury.
The now notorious Dank Vapes brand has played a central role in the spread of this serious injury. Fifty-seven of 86 interviewed patients in Wisconsin and Illinois reported using cartridges that came in a Dank Vapes box, as did 21 out of 53 patients interviewed in Utah, most recently. Those boxes look like this:
But Dank Vapes aren't the only black market cartridges that have been implicated in EVALI. In a report issued on September 27, the CDC noted that other brands like Chronic Carts, Moon Rocks, Cereal Carts, and Mario Karts amongst others had all been used by patients who eventually fell sick.
Some also reported using licensed THC vape products, like Rove. Though Rove has struggle with counterfeiters who copy their packaging and sell unlicensed marijuana concentrates under the brand name.
From the DEA's point of view, collecting these cartridges is an important step toward stopping the spread of EVALI and the products that might be responsible for it. And crucially, when it comes to the black market side of things, that market is still thriving: The boxes are still available online, and accounts selling them still exist online.
Consumers are increasingly aware of the risks that the black market poses, but may still have one or two cartridges lying around. Instead of hitting those Dank Vapes, reselling them, or letting them accumulate, the DEA is offering the opportunity to ditch them once and for all.
This Saturday, at a local pickup site you can locate here, you can wash your hands of them and all the dangerous chemicals they may contain, again, with no questions asked.
Read more of our reporting about black market vape cartridges and the efforts to control them: