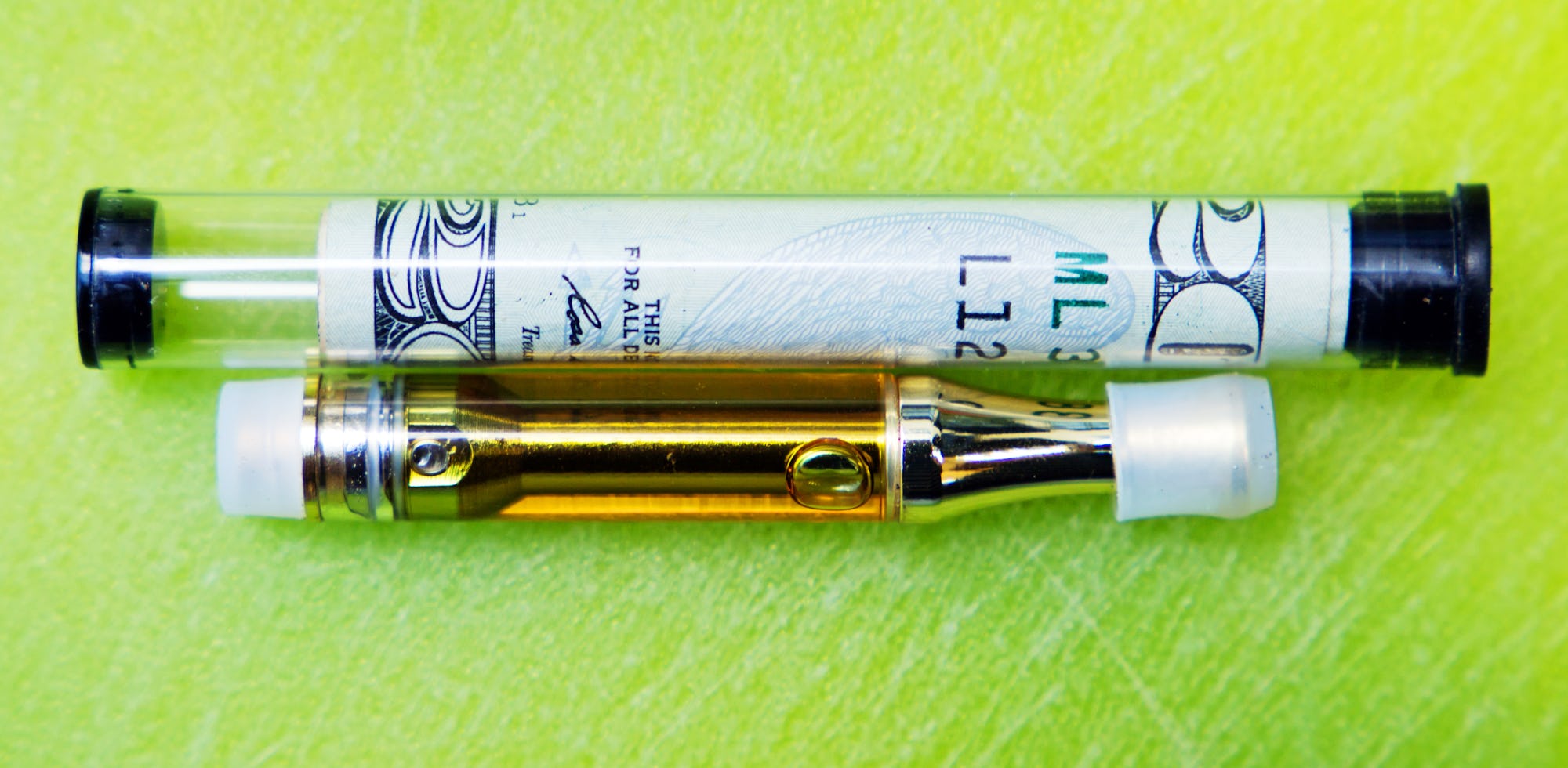 Mind and Body
The solution to America's THC vaping catastrophe may be in Canada
As the US deals with vaping related illness, THC vape cartridges are about to go legal up North.
Shutterstock
When legal marijuana hit Canadian shelves in 2018, regulators probably never imagined that, a year later, THC vapes would have become one of the Northern Hemisphere's most pressing public health problems.
Since August of this year, the United States has recorded more than 1,470 cases of a vaping-related lung injuries referred to as "e-cigarette or vaping, product use associated lung injury" or EVALI, for short. These cases have largely been tracked to vaping homemade, pre-filled THC vape cartridges. In particular black-market "brands" including "Dank Vapes" have been linked to illness in Wisconsin, Illinois, and Utah.
The public health crisis has created conversation around how the black market became so ubiquitous, and it distills into a single question: Would we be in this mess in the first place if marijuana was federally legal and regulated?
There are think pieces in Forbes, NBC and Vox that all consider it. Even former FDA commissioner Scott Gottlieb argued for it in the Wall Street Journal.
In the US, we have hot takes when it comes to THC vaping. But in Canada, there may actually be an answer.
EVALI gave Canadian lawmakers pause, but they continued their legalization plans regardless, and initiated the second phase of marijuana legalization or "legalization 2.0" this month to allow cannabis vape cartridges to be sold legally.
"I think this it's going to be useful for everyone to pay attention to how this is rolling out up north."
That high-stakes rollout will give America the first real look at a regulated THC vaping market, and Beau Kilmer, director of the RAND Drug Policy Research Center, says we should watch Canada closely.
"While we're having a discussion about illicit vapes in the US, at the same time, we're looking at Canada, which has taken a very cautious approach. They've taken a whole extra year to develop the regulation," Kilmer tells Inverse.
"I think this it's going to be useful for everyone to pay attention to how this is rolling out up north."
"Nothing beats it coming to your mailbox."
A driving factor behind Canadian legalization was to control and tax marijuana products — and to wean consumers off the black market. But as the demand for marijuana products has evolved, Canadian regulators realized that they need to meet consumers in two entirely new venues: online cannabis sales and the sketchier market of THC vape cartridges.
David Hammond, Ph.D., a professor of Public Health at the University of Waterloo in Ontario, explains that there is a significant movement toward buying marijuana products online. Before legalization, he noticed that was happening for dried flower. His 2018 paper, published in the journal Addictive Behaviors, found that delivery-only services were prominent in the year before legalization in Canada. Across the 13 cities, there were 791 delivery-only retailers and only 157 storefronts, he found.
"It's like asking the question, 'do people like to buy consumer goods online?'"
When it came to flower, online stores help offset the black market. Part of that initial wave of Canadian legalization meant opening licensed dispensaries. But it also involved setting up government-run or licensed shops online, which fielded a speedy 100 orders per minute on legalization day last year. There have been growing pains, like long wait times, though Hammond says that still online sales are something the US could learn from:
"Honestly, I never could understand why they don't have online sales in the US," Hammond tells Inverse. "In some ways, it's actually easier to regulate. It's like asking the question, 'do people like to buy consumer goods online?'"
Viviana Zanocco, the manager of corporate communications for the BC Liquor Distribution Branch, British Columbia's only government-run online cannabis store, declined to share sales data from both online and brick and mortar stores, but tells Inverse that they completed exactly 148,754 online transactions in the first year of business.
In Ontario, the province with the second-highest amount of legal cannabis sales in Canada 2019, a spokesperson for Ontario's online cannabis store tells Inverse that the store completed more than one million online sales last year.
There's evidence that millennials, (who traditionally have taken part in Canada's marijuana market) prefer to shop online for other products: There's the convenience, variety, and the ability to avoid talking to a real person. These are also the pros of shopping for cannabis online, says Canadian Mom Son, a cannabis reviewer and Youtuber in Ontario.
"In my opinion, mail order marijuana is amazing and convenient," Canadian Mom Son tells Inverse. "This has opened a whole new online world for [the] mail order cannabis community … nothing beats its coming to your mailbox."
When it comes to winning consumers away from the black market, this service could prove even more important for pre-filled vaping cartridges. Hammond explains that in his forthcoming work, which analyzed 45,000 illegal products, including THC vapes, he found that illegal online sales are more common than illegal sales in brick and mortar stores.
Will Canada's online legal framework be able to compete? Hammond says it could, theoretically: "In theory, it should be just as easy to order legal products online as it is would be illegal."
We asked Zanocco, of the BC Liquor Distribution Branch of the how it intends to do just that:
"We will compete with the black market by offering devices and products that are approved by Health Canada," Zanocco tells Inverse.
The good news for the Canadian government is that consumers are used to buying pre-filled THC vapes online. The bad news is that they'll be tasked with deposing an established shadow economy that has been controlling the market in the absence of legal vape products.
There's good news, though: If the consumer experiences are any indication, users are getting sick of the black market, anyway.
"Lots of people are rightfully pining for legal concentrates. They are what I am truly excited about…
Fighting the black market online
In California in 2018, sales of concentrates, sold mostly as vape cartridges, overtook the market share for dried flower products in December. Though flower still leads the way in popularity nationwide (in the US, and Canada), vape cartridges are increasingly popular — at least in legal states, where they were the second most-popular method of cannabis use, and totaled $473 million in sales.
In Canada, vape pens are increasingly popular, and projected to explode when concentrates hit stores in December. But in the lag between the legalization of flower products and the upcoming legalization of vape products, the illegal sellers has capitalized around the clear interest.
As one Redditor who moderates a Canada-based marijuana subreddit with more than 30,000 subscribers tells Inverse, the demand for concentrates and pre-filled vape products is one place where the legal marketplace could have a huge effect.
"Lots of people are rightfully pining for legal concentrates.
"Lots of people are rightfully pining for legal concentrates. They are what I am truly excited about, as they are the only area where I feel they [legal concentrates] can quickly take over on black market or homemade options, for myself at least," they tell Inverse.
To "quickly take over that market," legal online stores will have to compete with centralized and illegal cannabis superstores that will ship any number of products throughout Canada, including THC cartridges (which the government will provide starting in December). These outlets are quick to draw users in with promises of variety, discretion and low prices.
One British Columbia blogger who focuses on their experience as an Autistic person, is one of those users whose been lured in by the promise of online shopping for THC vapes. They first turned to Just Cannabis, an online "re-seller" of cannabis products in September of 2019, where they bought several Keyy vape cartridge products.
Keyy appears to be an illegal brand with dubious origins and Just Cannabis and Keyy Vapes are both illegal in Canada.
Even with their illegal status, the websites appear legitimate. A glance at Just Cannabis reveals it's illegality (it lacks government affiliation, and sells illegal products), but the layout isn't dissimilar from that of legal distributors.
Upon opening the Just Cannabis website, they'll ask you to confirm that you're over 19 (legal age for cannabis use in Canada), the same way the legal Canadian online stores do. Online they claim to "curate" high-quality marijuana products, including THC vapes. The first mail-order is free. You can also earn $30 for getting someone else to buy from their site.
"I felt very wheezy and out of breath
The blogger bought the products because Just Cannabis offered "a lot of promotional offerings and they were one of the websites with the lowest price," as they tell Inverse. And the Keyy vape products, they say, were "the most popular." The blogger selected three "Charlottes Web" flavored CBD cartridges products to help them cope with their anxiety — but ultimately walked away feeling sick:
"I felt very wheezy and out of breath. I seem to be OK now, but regardless it was horrible. My chest X-ray was clear but I had to get an inhaler," they say.
In a series of emails between Just Cannabis and the blogger provided to Inverse, they describe their symptoms, attempts to get their money back, and asks for the contact information for Keyy vapes, the manufacturer for the products that they claim made them feel ill. On September 24, 2019, they wrote to Just Cannabis, outlining their symptoms.
In response, a Just Cannabis representative suggested that the cartridges would "be an excellent gift to someone who vapes." They never received contact for Keyy Vapes, and Just Cannabis described themselves as a "re-sellers."
"We are very sorry to hear about the chest pain. We are not producers, we are re-sellers and ingredients are pure THC distillate, terpenes and proprietary blend," they replied on September 25.
Inverse has reached out to representatives at Just Cannabis, and will update this story if they respond.
Ultimately, sites like Just Cannabis filled a hole Canada's legalization framework: people wanted THC cartridges and concentrates so much that they risked the black market for them, even with service that was inconsistent at best, and dangerous at worst.
"I plan on resuming using distillate when it becomes available via legal, regulated means."
Experiences like the blogger's reflect a frustrating black market for vaping. Consumers clearly want these products, but the risks are too high.
"When I used THC [cartridges], I only bought from one site due to word of mouth and seeing my friends use their products with no issues," explains Canadian Mom Son, the Youtube reviewer. "However, as soon as I found out about the health issues and deaths, I stepped away, as in Canada most cart producers are black-market, so you cannot trust [them]."
Canada only has seen one confirmed and two probable cases of the vaping-related illness, but simply the way that THC vapes are manufactured is enough to have some people particularly awaiting the arrival of legal alternatives, like Redditor, u/ProBonerCounsel who told Inverse they're hitting pause on concentrates due to additional concerns:
"I feel that once you go beyond flower, the opportunity for sanitary issues, contamination, and unsafe processing increases dramatically. I plan on resuming using distillate when it becomes available via legal, regulated means," the user tells Inverse.
Concentrates and vape products are a far more complex bit of cannabis chemistry, that includes different distilling techniques and the addition of flavoring additives, some of which are benign. Others are untested, and some downright dangerous: like so-called "thickeners" that have been tied to vaping-illnesses in the US.
Legal shops are working with the government to provide robust alternatives already. As a representative for Ontario's online cannabis store tells Inverse, the vape launch is in motion:
The OCS [Ontario Cannabis Store] continues to work closely with Health Canada, federally licensed producers, and other health stakeholders as the launch of legal cannabis vape products in Canada approaches in late 2019 or early 2020
I feel that once you go beyond flower, the opportunity for sanitary issues, contamination, and unsafe processing increases dramatically."
What can the US learn from Canada?
To really illuminate the black market there may be a tradeoff between speed and safety that the government has to grapple with going forward.
Canada is trying to strike a balance between giving consumers the choices they want, and delivering safe products, that meet specific requirements. This careful oversight will delay speed, but it fits better with the true goal of legalization, if you ask Hammond, the professor of Public Health at the University of Waterloo in Ontario.
"We're in stage one, where regulators are just doing everything they can to try to compete with the illegal market," Hammond says. "Step two will be, 'okay, well maybe we should think about curbing some of these products that minimize public health risk.'
"If you're going to sell them, you better have decent testing and reporting deadlines. I know people don't like that because it's hard for smaller business to compete, but that may be the cost of selling a highly potent drug."
States like California have robust three-stage testing for marijuana products that hint at a way that we can make products easily available and safe, but that's hard mission to embark upon if the illegal market is still dominant, adds Kilmer, the director of the RAND Drug Policy Research Center.
Kilmer says that we still have pockets in the US where the black market has the upper hand. He says that only roughly 20 to 30 percent of the US population lives in places where there are legal alternatives to the black market, which gives illicit sellers a powerful hold everywhere else.
In that respect, Canada has drawn up its battle plan to meet the black market, and try to restore some order to the THC vaping world. Given the clear concerns about black market vaping that have arisen in the US, their experiment couldn't be coming at a more crucial time.
Correction 10/28/19: A previous version of this article erroneously stated the location of the anonymous blogger. They are from British Columbia.
Editor's Note: The name of the anonymous blogger referenced in this story was removed after its publication. We chose to remove their name at their request and because its removal does not change the nature of the facts presented in this story.