"Dank Vapes" are still being sold by the thousands, despite a crackdown
Over 11,000 packages were sold in September alone from a single manufacturer.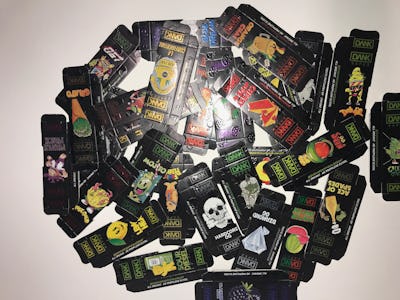 Inverse
Before they were directly linked to several cases of a "vape-related illness," anyone looking to buy a black market THC vape could find it with a Google search. Now, as lawmakers are closing in on illegal THC cartridges, the market is receding into the shadows of the internet, where business is as busy as ever.
One component of black market vaping is the packaging of illegal THC cartridges. On September 5, New York State released photos of Dank Vapes and Chronic Carts packaging, which were found to contain vitamin E acetate, a thickener that has been linked to some, but not all "vaping-related" illnesses. Importantly, Dank Vapes and Chronic Carts are not real THC vape manufacturers. Rather, they're just packages that, until recently, were easy to buy online and fill with bootleg THC distillate that's sometimes contaminated with chemicals or pesticides.
That instantly recognizable Dank Vapes packaging makes it feel like you've bought a product that was manufactured in a licensed facility. In reality, what you've actually bought is a cartridge that was filled by an unlicensed dealer, who might've filled it in their garage.
Here's how easy it was to buy one of these boxes. As part of a recent Inverse investigation into the Dank Vapes shadow economy, we ordered these packages on Amazon and had them delivered to our newsroom. They arrived within a week. Even more recently, a police raid in Waukesha, Wisconsin, turned up nearly 98,000 unfilled vape cartridges along with piles of empty boxes with Dank Vapes branding, which shows just how many of these packages are still floating around.
Since then, these packages have become marginally harder to come by, at least on Amazon, where the packaging was once sold and has since disappeared. While it may seem like a good sign that the black market is shrinking, sales on other websites are still strong, amounting to thousands in September alone.
On the wholesale website DHgate.com, bulk orders for Dank Vapes packages are still manufactured in China and shipped to the United States. DHgate advertises dozens of sellers who are still selling Dank Vapes packaging, as well as other fake brands like Chronic Carts.
For example, one seller under the username "baby_apparel" has sold a total of 8,270 Dank Vapes-branded boxes between September 1 and September 18, going by DHgate's transaction records. In that same time frame, they've also sold 3,300 Chronic Carts packages. All together, those orders total 11,570 of these packages. One of the anonymous Chronic Charts purchasers gave the seller a succinct, but positive five-star review on September 18: "good packaging. fast shipping. will return."
Baby_apparel is the username used by a manufacturer in China called Shenzhen Vapor Technology Co., Ltd. Inverse reached out to the company and will update this story if they respond.
Outside of DHgate, Dank Vapes are also still sold on sites like Jack Ma-owned Alibaba, the China-based wholesale site. The unit price for a single cartridge on Alibaba is between 65 and 85 cents, and a minimum order means 100 Dank Vapes packages from some sellers. They're also still floating around on eBay, where 10 packages and empty cartridges go for $19.98.
Dank Vapes Absent From Amazon Following Routine Review
Still, buyers-to-be can't get Dank Vapes or Chronic Carts packaging on Amazon anymore. And though this may seem like a reaction to the investigations into the fake brands, a spokesperson for Amazon tells Inverse that the removal of Dank Vapes packaging was just the result of routine maintenance.
Amazon won't sell any "drug paraphernalia" or e-cigarette products — though they do sell skins for legal e-cigarette companies like JUUL. They provided Inverse with the following statement:
Amazon does not allow e-cigarettes or drug paraphernalia in our store and our policy regarding this has been in place for many years. We require all sellers to follow our selling guidelines and have dedicated teams that use sophisticated tools, including machine learning, to keep prohibited products out of our store. We take action on those who violate our policies, including removal of selling privileges and withholding of funds.
Removal of Dank Vapes packaging from Amazon may sway some black market hopefuls away. But there are still many places online where the packaging is still cheap, and easily available, pointing to just how far lawmakers have to go to stem the flow of packages that can be filled and resold to unsuspecting buyers. The black market is still alive, well, and unaddressed by investigators at the source.