'Last of Us 2' delay: A timeline of how the highly anticipated game got here
It's been half a decade in the making.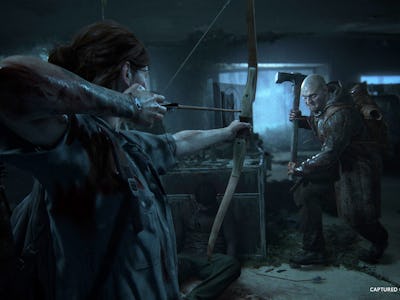 Naughty Dog / Sony Interactive Entertainment
The Last of Us Part 2 won't be here as soon as Sony Interactive Entertainment and Naughty Dog had stated during the PlayStation State of Play in late September. The highly anticipated action-adventure horror game will hit shelves on May 29 instead of February 21, Naughty Dog Creative director Neil Druckmann said Thursday.
The California-based developer said the delay was to ensure the sequel to the critically acclaimed PlayStation 3 title was "polished" and met Naughty Dog's standard for quality.
"At this point we were faced with two options: compromise parts of the game or get more time," wrote Druckmann in a release. "We went with the latter, and this new release date allows us to finish everything to our level of satisfaction while also reducing stress on the team."
Naughty Dog's update means that fans will need to wait an extra three months for the next chapter of a story that enchanted them years ago. An overwhelming majority of gamers on Twitter were bummed, but understood. The Last of Us Part 2 is debatably one of the most anticipated PlayStation games of all-time, so fans seem fine waiting for it to be done right.
Here's a timeline for all of the The Last of Us Part 2 news we've received over the years, and how we got to Thursday's delay.
"Let's cut to the chase: the sequel to The Last of Us is happening."
Things started with a bang. After the hour-long, December 2016 PlayStation Experience showcase in California, SIE chairman Shawn Layden took the stage to give the world a first glimpse at The Last of Us Part 2.
The reveal trailer was simple, it included a few panning shots of a post-apocalyptic township that a part of the game would take place in. It ended with a matured Ellie playing a folky song on an acoustic guitar and Joel's silhouette. The crowd went wild.
The video revealed the game's title and that Ellie would be the lead character, as opposed to Joel.
At this point, The Last of Us Part 2 had been in development for more than two years. Naughty Dog began working on the sequel soon after the 2014 release of The Last of Us Remastered and is apparently still fine-tuning it for launch.
Druckmann followed up the announcement with a statement on the PlayStation blog that began the game's hype cycle.
"Let's cut to the chase," he wrote. "The sequel to The Last of Us is happening, and it's called The Last of Us Part II."
Lights, camera, motion capture
Months later, in April 2017 The Last of Us Part 2 motion capture crew began shooting.
Ashley Johnson who plays Ellie tweeted a picture with Troy Baker (Joel) with a caption reading, "Back in LA, shooting some video game. I think it has zombies in it."
Naughty Dog had previously announced both Johnson and Baker would play Ellie and Joel again, but the tweet reassured fans the game was still in progress after four months of silence.
"Another piece of the puzzle"
It would be another year before Naughty Dog unveiled the second The Last of Us Part 2 trailer. This time it chose Paris Game Week in October 2017 to debut four new characters and showcase how dark and gruesome the game will be.
The video featured Yara (played by Victoria Grace), Lev (Ian Alexander), Emily (Emily Swallow), and an unnamed character played by Laura Bailey. Exactly how these new faces fit into the plot is still unclear. But in another statement titled "Another Piece of the Puzzle," Druckmann told fans to get used to them.
"At its core, The Last of Us is still very much about Ellie and Joel," he wrote. "But for this reveal, we wanted to showcase several new characters that are integral to their next journey."
Druckmann also took the time to call attention to the visual improvements made possible by the Naughty Dog's new engine, which were showcased in the shadowy trailer. But the game's next big reveal would truly show fans what the developer had up its sleeve.
A first glimpse at gameplay
Nearly half a year later at E3 2018, Sony featured The Last of Us Part 2 at its showcase at the annual games expo. This included a new trailer that provided more details about Ellie's backstory and included gameplay for the first time ever.
It revealed Ellie's love interest in the game, a young woman named Dina, and the brutal horde of enemies TLOU 2's hero will battle with her stealth and cunning.
The trailer showed Ellie and Dina kissing, which was praised for how natural and passionate it looked, thanks to Naughty Dog's improved visuals. The combat system, enemies, and environment also seemed highly refined, allowing players to face the Infected or bandits head on, or opt for a sneakier approach.
Naughty Dog juxtaposed showing Ellie's budding romance and the extreme violence she'll be faced with to further tease the driving force behind The Last of Us Part 2. Druckmann explained a snippet of Ellie's story arc in yet another statement following the E3 2018 reveal.
"Ellie is now 19 and has found a semblance of peace and normality living in Jackson. She's had a chance to be a teenager and forge lasting relationships. When that peace is disrupted by a violent act, Ellie is thrust into a brutal journey of retribution, fueled by a need to bring those that have wronged her to justice, pushing her to her very limits."
The Last of Us Part 2 seemed closer than ever, but it would be a while until fans got another look at Ellie and Joel's next adventure.
"The end"
Exactly two years after The Last of Us Part 2 motion capture crew began shooting, it wrapped on April 2019.
Druckmann tweeted an image of the game's script turned to the final page that read "The End" and "Cut To Black" at the to right corner.
The informal announcement didn't come with any teasers or spoilers, but gained almost 50,000 likes and close to 10,000 retweets. The Last of Us Part 2 was almost here and fans couldn't wait.
Finally, a release date
Months later, Naughty Dog shared the now-postponed February 21 release date, more gameplay, and finally revealed Joel's aged face.
The fourth teaser trailer was the final announcement at PlayStation State of Play broadcast on September 24 and it finally revealed what would be driving Ellie throughout the game: revenge.
Based on what we know so far, Dina and Ellie will be ambushed by a group of bandits during a routine supply run. Ellie manages to escape but Dina is executed in front of her. It's assumed that she will set out on a revenge journey leading her to commit the acts of violence we saw in this trailer and previous videos.
The State of Play trailer and subsequent demos played by select news outlets suggest that the story could play out in two ways. One could be the seemingly obvious path of Ellie seeking revenge for the death of Dina. But Naughty Dog could be setting up gamers for a bait-and-switch and have Joel die, leaving the story to revolve around Ellie's reckoning with his death and her feelings for Dina.
That was the final glimpse of the The Last of Us Part 2 shown before Naughty dog announced it would push back the release to May 29. There will likely be more teasers as the new launch date approaches, but for now the exact details of this much-hyped game remains a mystery.
The Last of Us Part II will be exclusively released for the PS4 on May 29, 2020.