The story of 'Iron Man VR' hinges on Tony Stark's imperfections
"Tony's greatest fights tend to be against his own demons," said game director Ryan Payton.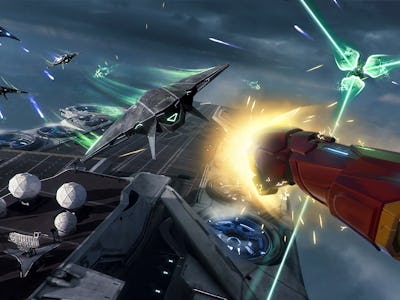 Sony / Camoflaj
Perhaps more than any other Marvel character, Iron Man was tailor-made for virtual reality. His iconic suits afford a dizzying sense of freedom, allowing you to zip through the sky and nimbly weave between the deadly hazards in your path, blasting baddies with repulsor beams all the while. Yet Marvel's Iron Man VR, the PlayStation exclusive set to launch early next year, doesn't place its focus solely on the superhero. When you put on that PSVR headset, you'll also step inside the shoes of Tony Stark — titan of industry, billionaire playboy, and outrageously creative scientist.
"The gameplay in Marvel's Iron Man VR is centered around what it's like to pilot the Impulse Armor and feel like Iron Man," Ryan Payton, Game Director at Camouflaj, explained to Inverse. "The story, however, is about Tony Stark, the man behind the mask. Iron Man is squarely in the center of what makes the game fun, but we hope Tony Stark is the imperfect human that makes our game memorable."
Even before Robert Downey Jr. donned the suit that helped to launch a multibillion-dollar cinematic franchise, Marvel fans have been fascinated by Tony for decades, precisely because he doesn't always get it right. He can be reckless and impulsive. He doesn't always make the best decisions. Beneath his brash exterior, there is a tremendous inner conflict that never quite goes away.
"We can all relate to that," Payton said of the character's enduring appeal. "Tony's greatest fights tend to be against his own demons, and in a society where we're often expected to be perfect people, Tony's story feels a little closer to reality."
Between missions in Iron Man VR, you'll be able to spend a good chunk of time with all that spiffy bleeding-edge tech in Tony's garage, whether you're modifying your equipment to become even more powerful, or just enjoying a bit of virtual cosplay. "Being Tony Stark is more than just being powerful—it's about being smart and inventive," Payton explained. "Allowing the player to research and develop new weapons and armor modifications really helps deepen the sense of being Tony."
You won't be all by your lonesome as Tony, left to dodder aimlessly around your expansive compound and pose for selfies in your rad armor. You'll also spend quality time with Pepper Potts, Friday and Jarvis, and experience what it's like to stand in the deeply intimidating presence of the one and only Nick Fury, looming over you like a brick shithouse. Cultivating a sense that "you can feel these characters' presence around you," as Payton puts it, is a key part of how the Camoflaj team aims to make the game's narrative as immersive as its gameplay.
Not everyone you'll get to know in Iron Man VR has Tony's best interests at heart. You'll be getting up close and personal with one of Iron Man's iconic comic adversaries, Ghost. Their conflict, rooted in the death and destruction wrought by Stark Industries, is central to the original story developed in conjunction with Marvel Games. (Sorry, this means you can't spoil the plot for yourself by reading an old comic arc.) For Payton and the team at Camoflaj, Ghost was the ideal foil for Tony Stark because of her "anti-corporate and subversive" tendencies. What's more, she's packing some serious tech that will allow her to "go toe-to-toe with Iron Man in a believable, fun way."
Speaking of "fun," Iron Man's adventures, like those of most of Marvel heroes, have been littered with all sorts of oddball gimmicks over the years. While comic fans can expect to spot a few Easter eggs — and some throwback suits — in Iron Man VR, rest assured things won't get too zany.
"The team at Camouflaj can't help but joke, along with Bill Rosemann [Vice President and Creative Director at Marvel Games], about equipping Iron Man with some fly roller skates," Payton said. "I don't think that's something we will be able to sneak into the game, but it's fun to imagine what it'd be like in VR!"
Iron Man VR comes to PSVR on February 28.