'Power Rangers/Ninja Turtles' crossover does more than "smash toys together"
Series writer Ryan Parrot unpacks the millennial crossover dream come true.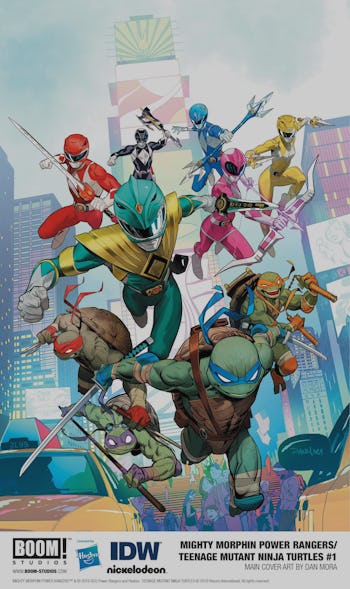 BOOM! Studios
This December, aging millennials will see the ultimate geek dream come true in a comic book crossover starring the Mighty Morphin Power Rangers and the Teenage Mutant Ninja Turtles. But the five issue series from BOOM! Studios is primed to be more than just bashing your old action figures together.
"I'm going from what I remember as a kid as opposed to the way they did it in the show," series writer Ryan Parrot tells Inverse at New York Comic Con.
In addition to writing Mighty Morphin Power Rangers and its prequel Go Go Power Rangers, Parrot is penning the crossover of a generation with IDW's Teenage Mutant Ninja Turtles, aptly titled Mighty Morphin Power Rangers/Teenage Mutant Ninja Turtles. Featuring art by Simone Di Meo, the comic will begin releasing in December.
As he does in Power Rangers for BOOM! Studios, Parrot says he's writing the series to explore some of the ugly realities of being a teenager — even if half the cast are green mutant reptiles.
"I treat the Turtles as teenagers," he says. "One of the things I love about the high school genre, it's a spot in your life where responsibility starts to become real. It happens in a two-year period in a complicated social structure you have no control over. You start to define who you are as a person."
Of course, the Ninja Turtles — big green reptiles born out of ooze who live on pizza and dwell in New York City sewers — don't go to high school. And that is the point of the crossover. "The Turtles know who the Power Rangers are, but the Power Rangers don't know who the Turtles are," explains Parrot. "That's the crux. One of these people are saving the world, the other is secretly saving the world. How do they feel about that?"
Set early in the Mighty Morphin story, the Power Rangers have lost contact with Tommy Oliver (aka, the Green Ranger) in a self-imposed exile. Meanwhile in New York, the Ninja Turtles spend another night clashing with the Foot Clan when one Foot gains the upper hand over Raphael. Unmasked, that Foot ninja is none other than Tommy.
Just what is a Power Ranger doing fighting for the evil Shredder? Fans will have to read Power Rangers/Ninja Turtles to find out.
While the comic will have all the action and shenanigans one could expect, Parrot says he's writing a story to be more than toys sharing panel space. There are no cross-dimensional traveling or brain-washing plots (which featured in a TV crossover between the Power Rangers and the Ninja Turtles in 1998). Newer Turtles like Venus de Milo and Jennika will not make appearances.
And yes, the Turtles and Rangers will fight, but not just for the sake of it.
"Tommy is with the Foot Clan. That inherently brings conflict," he says. "Having that in the story allowed the battles to happen [naturally]. Fighting comes out of an organic element and not a mistaken identity. But having them fight side-by-side is just as fun."
He adds, "I've done enough brain-washing. If you're just using it to smash toys together, and there's no consequences, it's a cheat."
Parrot says he writes the Rangers as stressed out teenagers who know the fate of the world is in their hands, every damn day. "I played around with that in Mighty Morphin and Go Go. They're 17 years old, and they feel like they're 50," he says. And that's relatable to the Ninja Turtles, except for one thing. "Imagine saving the world, and the frustration of having someone scream and run in the other direction after you just saved their life," he says. "Walk a mile in their shoes and you might see the world differently."
Parrot acknowledges the similarities (and differences) between Rangers and Turtles that's fueled this dream match-up for a generation. "We all grew up watching both, and even if we didn't notice it, saw the similarities," he says. "They're both color-coded teenagers fighting villains to save the world. It's crazy how much they have in common, and that's one of the fun things writing it. Bouncing two universes one another."
So, does that mean we'll see the Ninja Turtles pilot a Megazord? Parrot smiles. "Wouldn't that be cool?"
Mighty Morphin Power Rangers/Teenage Mutant Ninja Turtles #1 will be released in December.