'The Order' Stars Ex-Power Rangers Fighting a Brutal Civil War
Former Yellow Ranger Karan Ashley explains all about a new movie set to destroy '90s nostalgia.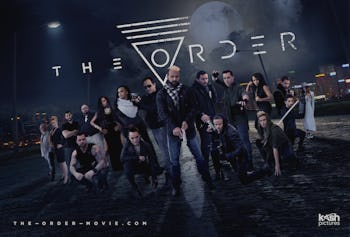 Kash Pictures, The Order
While a nasty U.S. election tears at both sides of the party line, geek culture is echoing those anxieties. We ushered in the summer blockbuster season by watching beloved superheroes fight each other on the big screen. Zack Snyder's nihilistic gladiator match, Batman v Superman: Dawn of Justice, and Joe and Anthony Russo's bombastic turf war in Captain America: Civil War, both followed that particular narrative. Now, there's The Order, a modestly budgeted new movie starring a dozen ex-Power Rangers killing each other in tactical armor instead of spandex. Directed by Supergirl choreographer David Wald, The Order aims to be atypical from Saturday morning cartoons.
"We were yearning for something that wasn't rated G," said Karan Ashley, the producer, writer, and star (one of many) of The Order in a phone interview with Inverse. "We wanted something edgier. We wanted to fight and punch each other in the face."
An actress and talk show host, Ashley's big break came from fighting rubber monsters on Saban's TV and toy juggernaut Mighty Morphin Power Rangers (and its cult 1995 film). The ex-Yellow Ranger told Inverse she came up with the idea of a grittier movie after touring conventions where she met nostalgic fans and caught up with her extended Power Rangers family.
"That conversation [of working together] has always been there and the fans have always backed us," she explained. "Every convention, they're like, 'Are you ever going to do a reunion? Are you going to come back?' That opportunity never materialized because there's never been a right situation. I felt if we were going to do something, we needed something different."
With a campaign live on Indiegogo, retired TV superhero and now producer Karan Ashley talked to Inverse about The Order, its funding timeline, and what it means for '90s fans to see teenagers with attitude finally grow up.
Where did the idea of The Order come from, and what is it about?
I knew I wanted something like Ocean's Eleven, or Fast and Furious. Everyone has a skill or a moment. I was talking to Austin [St. John] and my agent and they were like, "You know you should talk to ["Zordon" actor and writer] David Fielding. You guys could collaborate."
So I talked to him [about] this idea of a group, the shadow to the CIA and the FBI. Every one of them is an assassin, a killer, but they restore order in the world. I want good guys and bad guys. I said, "I want to cast all Power Ranger actors." He was like, "I'm all about this," and by November we had the script finished.
"The Order" is a private sect, these people can handle any situation. A couple go rogue and go against the Order. So the team is split and for the first time, they are fighting themselves. If you have James Bond fighting James Bond, what kind of fight would that be? It'd be pretty crazy.
That does sound like Power Rangers: Civil War.
[That was] the joke on set. The crew had no idea who they were working with. We hired the crew and all these people had no idea who the actors were. By the time we were finishing up, all of a sudden we saw [on the monitors] "Power Rangers: Civil War."
Why was it important to target an older audience than what you were used to?
Power Rangers is still a hit show and I would never want to compete with something classic. So I felt we needed to do something completely different. When that dark fan film came out, everyone went crazy. (Note: Karan Ashley is referring to Joseph Kahn's POWER/RANGERS.)
Was it tempting to cast or write characters in a way to "shock" fans?
In the beginning we were trying to do that. We were trying to model characters and it was impossible because we were forgetting story. So we stepped back. "David, let's just write the best script we can write." And we did. I cast people opposite of who they are as people, especially some of the menacing characters. None of these people are menacing but I was like, "Man, this will be a great opportunity. I really want to play a bad guy." I was going, "Who do I think would just dive into this and eat it up?"
What's with the film's logo, the white upside down triangle? Everyone in The Order changed their profile pictures to it. We joked it was the Illuminati.
It was so crazy! It wasn't anything to do with that. We [approached] a graphic artist, Brandon Benefield. He designed five and that's the one we liked best. There was not a lot of thought, it just looked cool. "The Order" is hidden in public. They're everywhere.
Will The Order have any Power Rangers callbacks or will it be entirely separated from that?
When we were writing, it was always a thought. How cool would it be if Johnny Bosch was fighting Walter Jones? (Writer's note: Both actors played Black Rangers.) I don't want to say it's reminiscent because obviously [it has] martial arts and team camaraderie. [But] this isn't Power Rangers. There are a lot of coincidences, we play up some of them, but we wanted something fresh. I want The Order to be a new thing. We know when people see us, they think superheroes. So I thought, "Why do we all have to be on the same team?" I split people up, so you don't know who's good and bad.
How much of the movie has been shot? We've seen a handful of behind the scenes footage on social media.
We shot for three days but we shot what we would have in a week and a half. So quite a bit has been shot, but we shot strictly for this trailer and the marketing. We'll reshoot everything once we go into production. We're slated to go into production at the end of the year.
We have money in place, but we're going to crowd fund so fans [can] take this journey with us. This has always been a movie we're doing for them. We do have private investors that, just from hearing we want to put the band back together, they're calling. So it's been awesome. We're going to crowd fund for 60 days and ultimately want it to land at Netflix, Amazon, Hulu, something like that.
Some movies use crowdfunding as a gauge of interest or to pad the budget. You have private investors in place, so how important is it for fans to donate?
Very important. Anytime you crowd fund and you don't have to go to a private investor, it's great. You get to make the movie you set out to make. When you start bringing in outside people and companies, things change. This movie is probably a million dollar film. What we're asking for in the crowdfunding is $250,000. So it's a portion of what we need and I feel like we need to make it fun. We want to make it something fans will want to participate, because it gives them opportunity to be part of the project.
Some perks include giving fans producing credit, sitting in on production meetings, or even working on set. Is it risky to let fans in on a project like this?
I didn't see it as a risk because we are also hiring professionals. But let's say they got the perk where they get to be a crew member. They're going to work alongside professionals. Every day I look on Facebook, Instagram, fans message me saying, "How do I get into this business? I really want to…" I encourage them because when I was young and wanted to get into this, I had the same encouragement. We know you have dreams being in this industry. Come over here and we'll teach you a thing or two.
Was this movie made as a response to the reboot movie from Lionsgate? It appears that movie won't have anyone from the original show. What are your thoughts on the movie right now?
Yeah, they're not a sentimental bunch, and it's fine. We all wish we could be part of that movie. Fans everywhere ask, "Are you in this new movie?" We're not, no one is in the movie. It's a true reboot. It's all new, all fresh. For the record, we are all excited. We are all planning to go see it together.
We are doing this because we want to, because we've always wanted to work together, we've talked about it for years. It's one of those situations as creatives, and as actors, the time is right. The dark and gritty film that came out last year, the response to it was amazing and it occurred to me. There is a lane for that. There is an audience.
This interview was edited for brevity and clarity.