Your Favorite '90s Power Rangers Are Reuniting For a New Movie Called 'The Order'
The Power Rangers morph into Illuminati soldiers for a mysterious new project.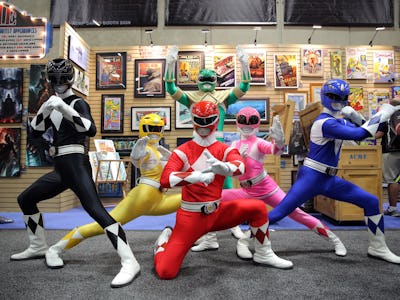 Chelsea Lauren/Getty
While Lionsgate prepares to reboot Saban's '90s television and toy phenomenon in 2017's Power Rangers, which will be directed by Dean Israelite and star Elizabeth Banks, the show's original actors have formed their own creative super team for a new independent film (or web series) titled The Order.
Last week, the official Facebook pages of several Power Rangers actors, including original Red Ranger Austin St. John ("Jason"), Black Ranger Walter Jones ("Zack"), Yellow Ranger Karan Ashley ("Aisha") and newer alums like Azim Rizik (from 2013's Power Rangers Megaforce), changed profile pictures to a nondescript black and white triangle. There was no reason given, until this morning, the first teaser for The Order was uploaded, featuring a behind-the-scenes shot of a SWAT team operation, a hashtagged caption #theordermovie, and a tease for the next reveal on May 19.
Obvious Illuminati jokes aside, The Order generated buzz within the Power Rangers fandom. Either intentional or accidental, the social media move occurred amidst last week's debut of the Lionsgate costumes, creating a sort of nostalgic, fan-approved contrast to the new production. It's worth noting the Israelite-helmed production appears to have little involvement with any of the TV show's original cast.
Based on the tiny scraps of evidence, The Order is shaping up to be a conspiracy-driven action flick, like someone dropped The DaVinci Code inside a Jason Bourne movie. But as there are no official plot details released, it's anyone's guess if these SWAT soldiers end up morphing into rainbow spandex.
RangerBoard.com, the most popular Power Rangers fan community message board, collected all the Facebook pages of actors participating in The Order. Aside from the aforementioned, the film includes Mighty Morphin actors David Yost ("Billy"), Jonny Yong Bosch ("Adam"), Steve Cardenas ("Rocky"), David Fielding ("Zordon") and Paul Schrier ("Bulk", the punk bully who served as comic relief); Time Force actors Jason Faunt, Erin Cahill, Deborah Philips, and Daniel Southworth; Turbo actors Blake Foster, Nakia Burrise, and Hilary Shepherd; and Dino Charge actor Yoshi Sudarso, whose series is currently airing on Nickelodeon.
And in case you're wondering, because you probably are, original Pink and Green/White Rangers Amy Jo Johnson and Jason David Frank do not appear involved with The Order. Johnson is a busy filmmaker herself — her new movie The Space Between is coming soon — while Frank is a regular on the geek convention circuit.
Other details for The Order, such as known writers, directors, or even a release date have not been announced.