The Dragon Prince reaches its full potential in Season 3, Episode 1
A spoiler-free review of the Season 3 premiere at New York Comic Con.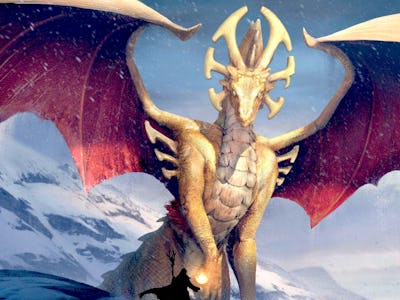 Netflix
The Dragon Prince Season 3 won't arrive on Netflix until November, but at a crowded New York Comic Con panel on Sunday, fans of the animated series got an early look at the entire first episode. In short: It's absolutely incredible and builds on everything the show has been working towards for two seasons.
If Episode 1 is any indication, then Season 3 of Dragon Prince could very well be the best fantasy story of 2019 (including that other show with dragons that won all those Emmys). Here's a spoiler-free review of the new episode to get you excited for the full season's release later this year.
The episode opens with a flashback, showing us a historic confrontation between Ziard (the first human to learn dark magic) and Sol Regem (the sun dragon). Sol threatens to wipe out an entire human city if Ziard doesn't abandon magic, and when the wizard refuses, it ends in a magical showdown that leaves Ziard dead (we think) and Sol permanently blinded.
Flash forward to the show's present day and Callum, Rayla, and Azymondias (aka, Zym) are facing down that very same blind dragon, who stands between them and their journey to bring Zym home and hopefully make peace between humanity and the magical world of Xadia.
Meanwhile, everyone's favorite deaf warrior Amaya is dealing with problems of her own. The Sunfire Elves are attacking the border between the human kingdom and Xadia, forcing General Amaya to take drastic action in one of the show's most exciting set pieces so far. 
Both here and with Callum, Rayla, and Zym, The Dragon Prince delivers some of its biggest and boldest action ever. And thanks to two seasons of methodical world-building and character development, the emotional stakes are higher too.
Finally, if you're wondering what's up with everyone's favorite evil wizard, Viren, and his mysterious new buddy Aaravos, don't worry, we get an update there too. After being arrested for treason at the end of Season 2, Viren is still locked up as the Aaravos slug whispers into his ear and the kingdom's leaders debate what to do with the traitor in their midst. One thing seems sure, though, Viren's story is far from over.
And the same may be true for The Dragon Prince in general. As the show heads into Season 3, we're reaching the end of one trilogy and the midpoint of a larger saga. (At the panel, co-creators Justin Richmond and Aaron Ehasz confirmed plans for a seven-season arc, urging fans to keep tweeting at Netflix with the hashtag #GiveUsTheSaga.)
Clearly, The Dragon Prince is just reaching the heigh of its powers. As the world expands and the stakes grow higher, it's easy to see how the show could continue not just for four more seasons, but for even longer. In a world without Game of Thrones and its CGI'd dragons (and mediocre ending), what we need now more than ever is a show with beautiful dragons, three-dimensional characters, and a clear ending in mind.
Based on the first episode of Season 3 — and everything that came before it — The Dragon Prince sure feels like that show.
The Dragon Prince Season 3 hits Netflix on November 22.