'Dragon Prince' Season 3 Release Date Teased at SDCC, Spoilers Revealed
We learned the Season 3 title and whole lot more!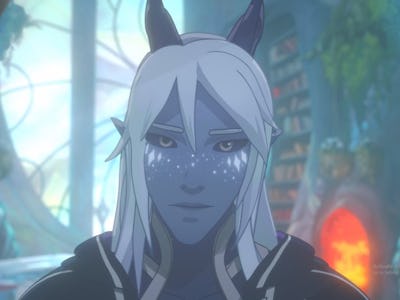 Netflix
SAN DIEGO — In a packed conference hall at Comic-Con 2019, the cast and creators of The Dragon Prince teased the highly anticipated Season 3 while diving deep into series lore. While there was no released date, the Netflix series did reveal a bunch of new details and promised "a premiere date announcement to come" in a press release.
Season 3 (or Book 3 as the creators call it) will be titled "Sun." It will also put a cap on a trilogy of seasons, leading to two more two-season series for a seven-season arc in total.
Diving more directly into Season 3, here's some key details that were revealed:
Jack De Sena, who voices Callum, revealed that his character will explore his newfound magic abilities after Dragon Prince Season 2 and will "touch on other forms of magic."
Paula Burrows (Rayla) also revealed that Season 3 will feature "Elf Callum," a reversal of the scenes where her own elven character had to disguise herself as a human ("human Rayla").
Amaya and Gren will apparently reunite, co-creator Aaron Ehasz
New details about Rayla's history are "coming up," according to Paula Burrows, who added that it was "very impactful for me."
We'll learn more about how the dragon egg survived in Season 3.
"Harrow is dead." Justin Richmond. Sorry, he's not coming back, but we will get to see more of him, likely in flashbacks.
Also, here's the awesome Dragon Prince lore that was revealed (more on that in a future article). Please note that the modern era is referred to as "The Return of Aaravos," which feels like a huge Season 3 spoiler.
If you missed it, here's the official synopsis for The Dragon Prince Season 3 that Netflix shared back in March when the renewal was confirmed:
Season 3 finds Rayla and Callum finally at the cusp of entering Xadia, while young Ezran returns home to take his place on the throne. Meanwhile, Lord Viren begins to realize the influence and power of his new ally – the mysterious Startouch elf, Aaravos. As several storylines unfold in big ways, this season will be massively epic.
Season 2 also ended on a number of big cliffhangers as the core characters split up and a new enemy emerged. While Callum and Rayla ventured further into the magical world of Xadia to return the baby dragon Azymondias to his people and hopefully end the war that's brewing between humans and mystical creatures. Meanwhile, Ezran heads home to claim the throne after learning of his father's murder, but he'll face a renewed threat from Lord Viren, who's been emboldened by new magic learned from a mysterious wizard who lives inside a magic mirror.
Yes, this show is weird in the best way possible and we love it. The creative team behind The Dragon Prince, which comes largely from the group that made Avatar: The Last Airbender (the excellent animated show, not the terrible movie) has managed to create a modern fantasy classic. The first two seasons are already some of the best kid-friendly entertainment that Netflix has to offer, and we can't wait to see how the series continues to grow in Season 3.