'Dragon Prince' Season 3 release date, plot, Episode 1 revealed at NYCC
Here's everything we learned at the New York Comic Con panel.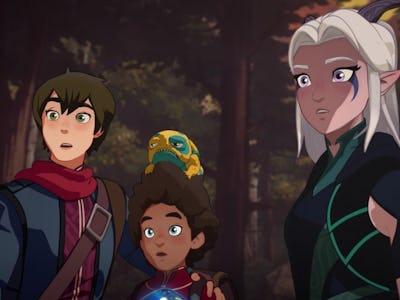 Netflix
In a packed conference room at New York Comic Con, fans of the Netflix animated series The Dragon Prince crowded into a Sunday panel for a glimpse of "Season 3 and Beyond," as the event was officially billed. After a very long wait, co-creators Justin Richmond and Aaron Ehasz revealed the official release date of November 22, 2019.
Here's an official poster for The Dragon Prince Season 3. As Richmond and Ehasz revealed, it shows King Harrow charging at the dragon Thunder (Zym's dad) while wielding a modified version of Queen Sarai's spear. We'll apparently learn more about how Amaya got the spear and why it was modified this season.
Titled "Sun," The Dragon Prince Season 3 will cap off a three-season arc titled "The Dragon Prince." After that, Ehasz and Richmond plan to release an additional four seasons broken into two sections. This plan was mapped out earlier this year at San Diego Comic-Con and confirmed at the NYCC panel.
"Our intention is to do seven seasons," Ehasz said on October 6.
The entire first episode of The Dragon Prince Season 3 was screened in full at New York Comic Con. We'll have more on that later.
In the meantime, read the official press release:
The Netflix original animated series THE DRAGON PRINCE returns for a nine-episode third season on Nov. 22, 2019.
The new season opens as Callum and Rayla finally enter the magical land of Xadia, and begin the last and most dangerous leg of their journey to reunite Zym with his mother, The Dragon Queen. Meanwhile, Ezran returns to the kingdom of Katolis to take his place on the throne, only to be immediately pressured to go to war with Xadia. Lord Viren, who is imprisoned and desperate, begins to realize the power of his new ally – the mysterious Startouch elf, Aaravos.
In season three the series will reach its most epic heights yet. We will discover the wonders of Xadia, encounter heroes, old and new, and learn some previously untold history about how Zym ended up on this epic journey. Season three will introduce new iconic characters – good, evil, and of course layered and complicated. Long-held beliefs will be challenged, new magic will lead to incredible powers, and a momentous battle will be waged in the name of finally stopping a centuries-old conflict that has affected generations.
Season one of The Dragon Prince premiered on September 14, 2018, and immediately topped popularity lists across Rotten Tomatoes, Fandom, and Tumblr. It was quickly renewed for a second season, which premiered on Feb. 15, 2019. The Dragon Prince was a top ten digital original throughout its season runs, has captivated a large and passionate fan community and has been lauded for the diversity of its characters and deeply layered storytelling. Both seasons have a 100% fresh rating on Rotten Tomatoes. The series' mix of action, adventure, and humor has attracted genre fans, families, teens, and animation fans of all ages.
The Dragon Prince is produced by Wonderstorm and led by co-creators Aaron Ehasz (head writer of Avatar: The Last Airbender) and Justin Richmond (game director of Uncharted 3).
This story is developing…