'Last Night in Soho' isn't a Cornetto movie, it's a "whole new series"
Edgar Wright's mysterious next movie could be the beginning of something new, according to co-screenwriter Krysty Wilson-Cairns.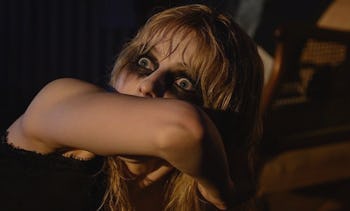 Edgar Wright on Instagram
Edgar Wright fans have been desperate for any information about the Shaun of the Dead director's next movie for a while now, but aside from a single photo and a vague synopsis, Last Night in Soho is still a big mystery. However, if you were hoping for a spiritual successor to the Cornetto trilogy (Shaun, Hot Fuzz, and The World's End), you may be out of luck — but what Wright delivers instead could be even better.
Last Night in Soho co-screenwriter Krysty Wilson-Cairns tells Inverse that while Wright's new movie definitely isn't a Cornetto film, it may be the start of something more exciting.
"I think it's going to be a whole new series," she said.
Wright has made plenty of non-Cornetto movies, from Scott Pilgrim vs. the World to Baby Driver, but the idea of an entire new thematic series is particularly tantalizing.
Wilson-Cairns also offered a few additional clues about Last Night in Soho, which remains a huge mystery. She confirmed that the movie is still in the editing process and teased a change in tone for Wright compared to what we've seen in his previous films.
"It's very much an Edgar Wright movie," Wilson-Cairns said. "It's a bit more of a thriller than perhaps you've seen before, but it'll have everything you want in it."
While describing her own background, the screenwriter, who got her start on the Showtime series Penny Dreadful and also co-wrote Sam Mendes' new movie, 1917, hinted at a few ways her own experiences made her a perfect choice to work on Last Night in Soho.
"I lived and worked in Soho and I was a bartender," she says. "I lived above a strip club. (Sadly, I wasn't a bartender at the strip club because I didn't have the rhythm or the rack for it.) So I worked at an Irish bar on the corner and I'd been in Soho for many years. I knew about the seedier aspects. I also knew people that had lived in Soho from the '50s all the way up to present day. So Edgar first spoke to me just on research on this idea that he had. That turned out to be Last Night in Soho. The, a few months later, he phoned me up and he was like, 'Would you like to write it with me?' I said yes because I'm a massive Edgar Wright fan."
Last Night in Soho is set to release on September 25, 2020.
Here's what we officially know about the movie, via Wikipedia:
Last Night in Soho is an upcoming psychological horror film directed by Edgar Wright and written by Wright and Krysty Wilson-Cairns. It stars Anya Taylor-Joy, Matt Smith, Thomasin McKenzie, Diana Rigg, and Terence Stamp. The film is said to be inspired by Nicolas Roeg's Don't Look Now, and Roman Polanski's Repulsion.