Edgar Wright and Simon Pegg Want to Make a New Movie Together
The long-time collaborators just need to find some time to write.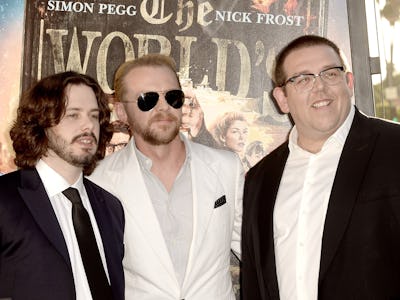 Getty Images / Kevin Winter
Beloved comedy duo Simon Pegg and Nick Frost are once again collaborating, with a new production company and perhaps a special new project. Now, their long-time collaborator, Edgar Wright, says he wants in on the action.
"I'd like to," the filmmaker told Inverse on Monday during a discussion about his new film, Baby Driver. "The truth is that it's a matter of actually trying to schedule sitting down and writing. We'd like to, and we've talked about it, and while there's nothing we've actually written, me and Simon have discussed it."
The filmmaker co-wrote and directed Spaced, the hit sitcom that made the trio famous, and then co-wrote and directed the three films collectively known as the Three Flavours Cornetto trilogy: Shaun of the Dead, Hot Fuzz, and 2013's The World's End.
Wright also directed the 2010 comic book adaptation Scott Pilgrim vs. the World. Frost recently starred in the second season of Into the Badlands. Pegg, meanwhile, has been extremely busy, and his success is one of the happy reasons that a Cornetto reunion has been on ice thus far.
"I think we worked out that. If you count the Cornetto Trilogy as a franchise, Simon is in five different franchises," Wright said. "Star Wars, Star Trek, the Tintin movies, the Cornetto movies and Mission: Impossible. Actually sitting down side by side to write is pretty tough. We'd like to, but when that will be, I have no idea."
And being a screenwriter on each project he directs is quite important to Wright. While a misreading of an interview he gave earlier this month made people think he might be involved in a new Star Wars movie (he quickly squashed that rumor), making his own original films is at the top of his priority list.
"The truth of the matter is, in this day and age, making original movies at a studio is the dream," Wright, who was bold enough to leave the Ant-Man movie over creative differences with Marvel, said. "Making a movie like this and getting a major studio to finance it and release it, with an original screenplay that I wrote, if I can continue to doing that, I'd be happy."
Pegg has consulted on Star Wars films and co-wrote the third Star Trek reboot movie. Wright is a major fan of many franchises — he's a film savant — but joining them isn't a major aspiration.
"I'd never say no to that, but I take much more pride in something I've written, because it's mine," he added. "When people are quoting lines back to you and drawing the characters, it's like, this came out of my head! It's not based on somebody else's property from 50 years ago; this is something I came up with."
Baby Driver hits theaters on June 28.