PS5 vs. Xbox Scarlett: How a Pro model could give Sony the advantage
The next-gen console war is already heating up.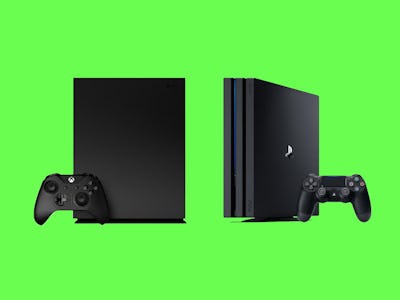 Microsoft / Sony
The sun is setting on the current generation of game consoles and a new dawn is just over the horizon. Microsoft will debut the long-awaited Xbox Project Scarlett in fall 2020 and Sony's PlayStation 5 is expected to follow suit. This week, we got a few more tidbits of information about the next round of console wars.
Microsoft as already announced plans to launch a single Xbox Scarlett console at E3 2019 as opposed to two models as previously rumored. But Sony could try to one-up its biggest competitor by launching the standard PS5 alongside a PS5 Pro, according to a YouTube video posted by Japanese games journalist Zenji Nishikawa. That strategy could allow Sony to win the next-generation console war, buoyed by consumers eager to snatch up a less expensive PS5 option.
Nishikawa's video stated Sony has "acknowledged the interest in a high-end model and wants to give players what they want right from the beginning of the generation." The report was translated by Wccftech on September 19. Nishikawa has made accurate predictions regarding the Nintendo Switch Lite in the past.
PS5 vs. Xbox Scarlett: Two consoles for all types of gamers
Nishikawa said the PS5 Pro will cost around $100 to $150 more than the base model, but didn't elaborate on how the hardware would differ. Sony could choose to lower the specs of the standard PS5 to make it more affordable, as an entry level console, instead marketing the PS5 Pro as a top-tier powerhouse with all the bells and whistles.
This kind of two-pronged approach could allow Sony to win over both casual and hardcore games. Cloud streaming services like Google Stadia and Microsoft xCloud promise players easier access to premium games without the need to purchase pricey hardware up front, which could make traditional consoles a harder sell in the months ahead.
PS5 vs. Xbox Scarlett: Sony doesn't want to repeat an infamous slip-up
Sony may also be trying to avoid a repeat of its infamous PS3 release snafu. The 2006 console launched at the eye-watering price point of $600, which resulted in slow sales and former Sony console chief Jack Tretton admitting the price was a "misstep."
A cheaper PS5 model could sway consumers who just want to play Sony exclusives without the hefty upfront investment, while a high-end console would appeal to gamers who want the best graphical fidelity. At this point, unclear how these models would differ from one another.
Back in April, Mark Cerny, lead system architect for the PS4, revealed some of the PS5's upcoming specs. These included 8K TV support, ray-tracing capability, and a solid-state drive. Notably, Cerny made no mention of two consoles.
While it's possible Sony has revised its plans since the spring, and now plans bolder measures to diversify its next-gen console offerings. But gamers will likely need to wait until 2020 for concrete answers.