Is the iPhone 11 durable? Drop tests show why you'll still want a case
SquareTrade put the new iPhone to the test.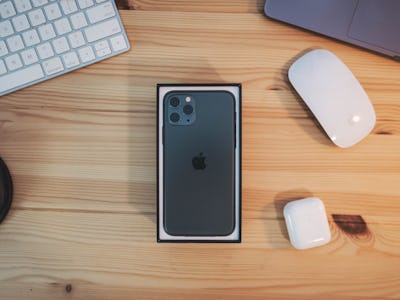 Unsplash / Andy Feliciotti
The iPhone 11 lineup takes durability to new levels, but that doesn't mean you can freely throw Apple's $1,000 smartphone at the ground. After the new device started making its way to consumers last Friday, a series of third-party tests detailed Monday show it's still worth taking care.
When Apple unveiled the new devices at its September 10 press event, company vice president Phil Schiller touted "better water resistance" and "stronger glass." Apple's subsequent hype video declared it has "the toughest glass in a smartphone," sculpted from a single sheet and reinforced at the atomic level. The video, which showed an iPhone 11 Pro bouncing off the floor from a drop, was music to the ears of accident-prone tech fans.
A series of durability tests, conducted by protection plan provider SquareTrade and detailed Monday, suggest you might still want to invest in a case. Jason Siciliano, vice president and global creative director at SquareTrade, said in a statement that the iPhone 11 Pro was "the most durable iPhone we've tested in generations," but added some caveats.
"It's the first smartphone to survive our tumble test, which simulates the effects of multiple, random impacts experienced by a smartphone during long-term use," Siciliano said. "That's a real achievement when it comes to durability. However, dropping any of the new iPhone 11 models on a sidewalk without a case, face-down or back-down, can still cause serious damage, as we saw with our drop tests."
Watch the test below:
SquareTrade conducted six tests to determine the phone's durability:
Tumble test: The phone tumbles around in a cube for 60 seconds. While the 11 and 11 Pro Max cracked on the back, with visible loose glass on the matter, the 11 Pro was the first smartphone to ever survive this test.
Bend test: Pressure is gradually applied to each phone. The 11 bent at 240 pounds, the 11 Pro at 251 pounds, and the 11 Pro Max at 232 pounds.
Dunk test: The device was held under five feet of water for 30 minutes. The 11 is officially rated to handle two meters (six feet six inches) of water for up to 30 minutes, while the 11 Pro and 11 Pro Max are rated for four meters (13 feet one inch) for up to 30 minutes. In the tests, the 11 and 11 Pro Max suffered audio distortion, but the 11 Pro was fine.
Face-down drop test: The phone was dropped once from six feet high. All three suffered from a shattered screen. The 11 Pro's screen also malfunctioned, while the 11 Pro Max screen malfunctioned and became unusable.
Back-down drop test: Like the face-down test, the phone was dropped from six feet. All three shattered, but while the camera lenses were damaged on the 11 and 11 Pro Max, all three still had a functioning camera.
Repairability: Although not strictly a durability test, the repairability shows how easy it will be to get an iPhone fixed in the worst-case scenario. The 11 has a similar repair process to the iPhone 8, but the 11 Pro and 11 Pro Max will likely take more time to repair.
Here is how each phone stacked up, based on a "breakability" score where 10 is low risk and 100 is high risk:
By comparison, SquareTrade gave last year's iPhone XS a score of 86 out of 100 and the iPhone XS Max a score of 70 out of 100. The iPhone X, which hit stores in 2017, received a comparatively awful score of 90 out of 100.
The iPhone is widely credited with popularizing the smartphone and bringing it to a mainstream audience. But while the Nokia 3310 devices of yesteryear were so durable they've resurfaced as an internet meme, the glass-screened iPhones have traditionally fared less well when faced with a concrete drop.
Based on Monday's results, it seems consumers will face similar issues with the iPhone 11. Fortunately, both Apple and third parties offer a variety of cases.