New 'Batman' writer wants to bring Batman back "with a fierce vengeance"
James Tynion IV takes over DC's 'Batman' series and promises to make "lasting change."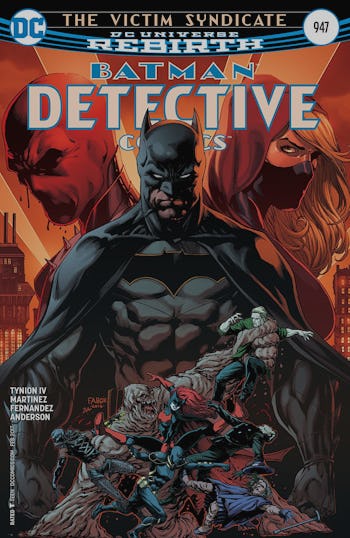 DC Comics
After 85 issues, Tom King will exit Gotham City limits and depart writing duties on DC's Batman comic book series. Taking over the author's cowl is James Tynion IV, who has spent the last eight years of his career writing Batman and the Batman Family, but has never penned a solo Batman story, but already has big plans to deliver a fresh take on the Dark Knight when Batman #86 arrives in January 2020.
"I haven't told a solo Batman story in eight years," Tynion (@JamesTheFourth) tells Inverse. "I've been working in and around Gotham City my entire professional life in comics. During that time, the character I've done the least with, the character I haven't told a single, driving emotional mystery, is Batman."
On Saturday, September 21 — which coincided to the 80th anniversary of Batman's first appearance in comics — DC officially announced Tynion as the new writer of Batman, starting with issue #86 in 2020. The reveal was made at the Union Square Barnes & Noble in New York City, where Tynion was joined by DC publisher Dan DiDio, writers Scott Snyder, Peter J. Tomasi, and illustrator Brad Walker for a Q&A panel.
Tynion will write Batman throughout 2020, and will be joined by illustrators Tony S. Daniel, Danny Miki, and Tomeu Morey. He teases his Batman, which picks up from King's storyline "City of Bane," will see Batman retake Gotham City to build "something new and something lasting."
"The last year on Batman has been a devastating year for Bruce Wayne," Tynion says. "He lost his city. He lost his cave. He's been brought to a really low point, and like every moment where Batman's been dragged down to his darkest moments, now he's going to come back with a fierce vengeance, and we're going to see him take Gotham City into his own hands and build something new and something lasting."
He adds, "When you open the pages you're gonna see the city, and the city is going to be changing. The question of [my Batman] run is going to be, what is it going to change into?"
As writer or co-writer on comics like Detective Comics, Batman Eternal, and all three iterations of Batman/Teenage Mutant Ninja Turtles, Tynion is no stranger to the Dark Knight or the rooftops of Gotham City. But Tynion's Batman will allow the creator to place Batman/Bruce Wayne "front and center," in a story that picks up King's closing arc, "City of Bane."
"It's a Batman story. It's not a story about the Family or the supporting cast," Tynion says. "It is about the city, but it is about Bruce Wayne as Batman up against something truly horrific."
Tynion, who wrote the post-Rebirth ensemble series Detective Comics where Batman led a team that included Batwoman, Spoiler, Orphan, Red Robin, and a reformed Clayface as the main characters, says "you can make lasting change" on a book like Batman.
"When you're on a book like Detective Comics, there are limits to what you can do to Gotham City. You're in the passenger seat, not the driver's seat. From the driving seat of Gotham, you can make lasting change. You can introduce big things to the mythology. That is what I'm very excited to do."
At 31-years-old, Tynion is perhaps the first millennial to serve as lead writer for Batman. The writer acknowledges his different set of touchstones that set him apart from older peers like Tom King, Scott Snyder, and Grant Morrison.
"The core difference for me and the generations before me is the writers who came of age in the '80s. Their baseline Batman is Frank Miller. My baseline Batman is Batman: The Animated Series. I was a kid forming my ideas of what Batman is watching that show. The voice of Kevin Conroy is burned into my brain, and that will never not be the voice of Batman."
Tynion also raves about Batman in the 2000s. "I was a teenager when we had Hush and Jim Lee and into the whole era of Grant Morrison, Scott, and Tom. These are the core pieces of my Batman, and that's the world I come from."
For so long, Tynion has debated with other comic book pros on the one that that all Batman stories should have. "There's the choral theme of Mask of the Phantasm. The dramatic singing. I've said before, if you're writing a Batman comic, there needs to be at least one sequence where you can play that theme. Otherwise, it doesn't feel like Batman."
Fans of King's Batman will see King wrap up his story, which has predominantly featured Catwoman, in the new miniseries Batman/Catwoman. But Tynion's Batman will also appease King fans while welcoming in newcomers.
"The whole heart of this story is built in the aftermath of 'City of Bane.' The supporting cast of the book is defined by key events that have happened in the last year," says Tynion. "Batman, emotionally, is absolutely defined by where Tom leaves the character. So for people who have been reading and loving Batman for the last 85 issues, there is continuation there. But for new people, it is designed to be a place you can jump onto to."
He adds, "As long as you know Bruce Wayne is Batman, you're good."
Batman #86 will be released in comic book stores on January 8, 2020.