Where to dance at different telescope locations in 'Fortnite' this week
Look to the stars and find your inner dancer.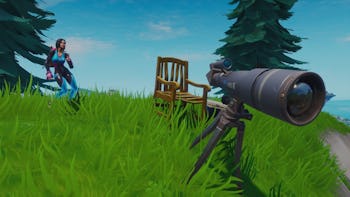 Epic Games
Fortnite: Battle Royale Season X, Week 8 is here, adding a new premium mission set of challenges called "Storm Racers" that involves vehicles and the storm in a surprising mash-up. One challenge has players "dance at (three) different telescopes," presumably to honor the very serious science of astronomy with some frivolous movements of the body.
Also Read:
As far as anybody knows, there are only three telescopes on the map right now, so there aren't options for where players can go to dance — they have to visit the only known three. In each case, the telescope is on some elevated hill or mountain near a campsite where a person might use it to gaze upon any of the many bizarre celestial events that've happened in Fortnite history.
Maybe they're just getting a closer look at that huge meteor suspended in the air?
Dancing near all three in a single match is definitely possible — I did it in the video at the top of this article. The key is to start on whichever telescope is closest at the start of a match and to find a Driftboard that can help make traveling easier.
For that, LootLake.Info is a great resource for creating quick maps on the fly that can show you the potential spawn locations for anything, including Driftboards. Especially if you start at Dusty Depot and work your way down with a Driftboard, hitting all three should be easy unless you get a really difficult storm trajectory.
This isn't always the case in Fortnite, but in my attempt at this challenge, I accidentally destroyed a telescope. I still got credit when I danced in the vicinity, however, so keep that in mind when attempting it yourself. It could save you from attempting it all over again.
Fortnite: Battle Royale Season X is currently scheduled to end on Saturday, October 5. While that is subject to change, that leaves only a couple more weeks to complete this and other challenges.