Where to complete a race track lap for 'Fortnite' Storm Racers
Time to head back to the track.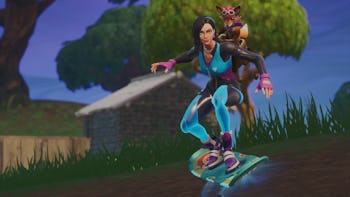 Epic Games
A new premium mission set of challenges released Thursday in Fortnite: Battle Royale called "Storm Racers" is all about moving fast and defying the abnormal laws of nature related to the purple storm that's out to destroy you in the game. Seemingly tied to the space-themed Season 3, the set of challenges involves gaining health within the storm and surviving storm phases, but one challenge has players "complete a lap of a race track." Note that it's not "the" race track, meaning that while the prominent desert race track on the eastern side of the map counts, it's not your only option for completing this challenge.
Despite the many changes over the course of Season X with all the Rift Zones and whatnot, the three race tracks featured in a Season 9 challenge remain relevant, so you can choose between the desert, snowy, and grasslands race tracks.
There are several factors that'll make this challenge difficult, and they all involve enemy players being a hassle.
In order to complete this challenge, you must have a vehicle, and in Season X, that means it must be a Driftboard. You can find several located at the starting line of each race track. In order for the challenge to activate, you have to hop on a Driftboard and move around a little bit until the start/finish line activates with a 15-second countdown timer. Once that completes, you can proceed through the race track. Be sure to pass through each blue-white ring on your way.
Between the delayed timer, the rings, and the fixed nature of this challenge, enemy players become an extreme problem. Generally speaking, players should aim for whichever of these three locations is furthest away from their Battle Bus trajectory, but with 100 players in each match, you're bound to encounter at least one enemy no matter what. In every case, it's a better idea to scour the area for some gear to at least defend yourself. If you want to be really safe, you should probably eliminate enemies also trying to complete the challenge.
I've tried several times to be the nice guy and let others complete the challenges — but that's gotten me killed more times than I care to admit. Check out our Season 9 race track guide for more information about these locations, and continue reading here for specific tips for each race track in Season X.
Desert Race Track
Being the only race track instantly visible from the map, the desert race track will probably be the most popular destination for most players looking to complete this challenge. Because it's in a flat, exposed area with several buildings that have decent loot, many trollish enemy players will grab some weapons and camp out hoping to eliminate the hordes of players flocking to the start/finish line.
Don't even try it here unless it's in the middle of the match and you find a Driftboard there or if you're able to make sure the area is clear before beginning it.
Snowy Race Track
Just northwest of Happy Hamlet, the snowy race track might be the best option for players looking to complete this challenge. The terrain is rather mountainous, providing natural cover, particularly around the track itself. The course is also shorter than the desert race track as well.
Consider landing right in Happy Hamlet to get enough loot to protect yourself. If you luck out, you'll be able to easily complete a lap around the course.
Grasslands Race Track
East of Junk Junction and west of the Block, the grasslands race track is one of the better options of the three. The course is short and simple with a building just east of the starting line and several RVs to the west with loot on top. Look out for a chest that usually spawns right next to the start line on the bed of a tractor-trailer truck.
If you land here before anyone else, grab the chest and the other loot, then wait for enemies to show up. Take them out by surprise, and then proceed easily through the course (just like I did in the video at the top of this article.)
Fortnite: Battle Royale Season X is currently scheduled to end on Saturday, October 5. While that is subject to change, that leaves only a couple more weeks to complete this and other challenges.
Here's an exciting video of the snowy race track with a Baller during Season 9: