'Fortnite' Pleasant Park and Salty Springs time trial locations for Week 8
They're both easy, but we suggest Pleasant Park.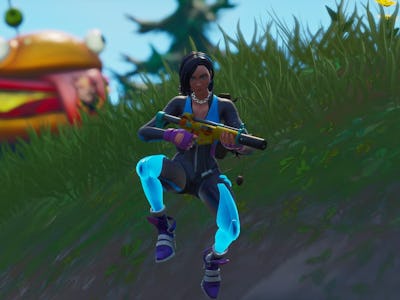 Epic Games
Time trials are back in the world of Fortnite: Battle Royale as of Thursday, when Season X, Week 8 challenges were added to the game. As part of the premium "Storm Racers" mission set of challenges, players have to "complete a time trial east of Pleasant Park or southwest of Salty Springs." These odd little obstacle courses have occasionally involved vehicles, but more often than not, they're essentially platforming mini-games that require fast feet and quick building.
Also Read:
This pairing is a little bit of both. The Pleasant Park location can be done on foot, and the Shifty Shafts trial requires the use of a Driftboard. They're both very easy and require proper timing on either a jump or a Driftboard boost. Which you choose — and you only need to do one — depends on your Driftboard skills, how many enemies harass you, and probably the initial Battle Bus trajectory.
For a guide to the Pleasant Park time trial, check out the video at the top of this article. You'll want to knock down a few trees before starting. The final checkpoint of the trial is atop the RV not far from the beginning of the trial. The route leads you in a tight loop up the nearby hill — the same one with the Drift-painted Durr Burger head and a rift — and then back down to end atop the RV.
Build a ramp leading to the top of the RV in a westerly direction before starting the challenge to make it even easier, and make sure you jump off the edge of the hill to reach one of the later checkpoints.
If you prefer some Driftboard action, head over to the location near Pleasant Park instead.
You need to use a Driftboard and boost at just the right time when you're at the peak of the hill. Only then can you hit the checkpoint that's in the middle of the air and reach the final two in time.
Whichever you choose, this challenge should be pretty easy.
Fortnite: Battle Royale Season X is currently scheduled to end on Saturday, October 5. While that is subject to change, that leaves only a couple more weeks to complete this and other challenges.