iPhone 11: Apple's A13 Bionic Chip Enables More Than Just Faster Speed
It's also more efficient than previous models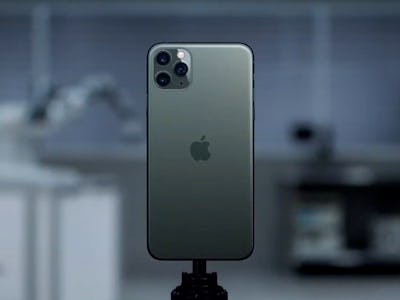 Apple
On September 10, Apple announced its newest creation: the iPhone 11. In addition to the phone's more visible upgrades, including a disorienting three back-facing cameras, the company also announced the introduction of its newest processing chip: the A13 Bionic.
On its website, Apple calls this chip the fastest CPU and GPU of any smartphone on the market and claims that it is "years ahead of any other chip."
But, despite these accolades, it might be easy for a casual user to overlook the internal upgrades of their new iPhone. Tucked away from view within the phone, the A13 Bionic is certainly less flashy than other aspects of the iPhone 11. But this mini powerhouse will allow users to not only shoot and edit 4K video directly on their phones, but will also significantly extend the phone's battery life by between one to five hours, depending on the model.
As for how the chip does this, it's down to the way it balances power, efficiency and machine learning.
The A13 Bionic has a whopping 8.5 billion second-generation seven-nanometer transistors, up from 6.9 billion in the previous generation. It can perform one trillion operations per second, thanks in part to new machine learning accelerators that can run matrix multiplication six times faster. The general makeup of the chip itself is much the same as the A12 before it, featuring in the CPU two "performance" cores and four "efficiency" cores, four GPU cores and eight Neural Engine cores. All are said to be 20 percent faster than previous models across the board.
This gives the chip its power, but as for what gives it its efficiency, that's as simple as turning off lights before you leave a room. Or in A13's case, reducing power to sections of the processor when they're not needed for a task. The processor is able to achieve up to 40 percent improved efficiency by reducing power to sections of the processor when they're not in use. The CPU's two performance cores use 30 percent less power, and its four efficiency cores use 40 percent less power. While the neural engine uses 15 percent less power, the GPU uses 40 percent less power.
While it probably doesn't come as a surprise to users that the iPhone 11's processor is faster and more complex than ever before, a point of excitement for developers in recent years has been the improvement of machine learning tools for something called "offline A.I." This allows developers to incorporate machine learning technologies directly into app and make use of data or private information while side-stepping leaky cloud-based systems. The increased power of A13's Neural Engine is another step toward these future developments.
In summary: will the average user notice a significant power boost from the iPhone 11's chip? Maybe. At the very least they'll get a few more hours out of their battery.