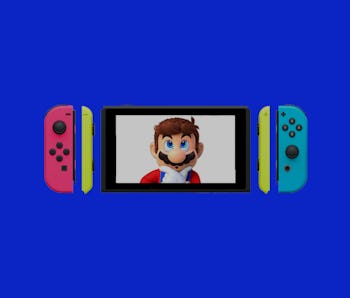 Gaming
Nintendo Switch Pro Joy-Con Patent May Solve a Major Pain Point for Players
This could fix a big annoyance with the Switch.
Nintendo
Nintendo might have launched the Nintendo Switch Lite and improved the battery life of its original console this year, but it's hard at work designing the next chapter of its hybrid gaming system, potentially titled the Nintendo Switch Pro or XL.
The games company filed an unexpected Joy-Con patent application, which was published by the Japan Patent Office on September 5. It depicts a pair of hinged Joy-Cons that would let users angle the top and bottom of controllers, which could be a hint of the reported Switch Pro or XL or new peripherals.
The hinge mechanisms allow Joy-Cons to bend into a crescent shape to rest the console more naturally in players' hands. This ergonomic design could address widespread complaints about how uncomfortable it is to play the Switch as a handheld. Here's the application's description of the design:
As described above, the main body of the left controller may have a shape that bends so that the front side is convex, or a shape that curves so that the front side is convex may be used. This makes it easier for the user to grip the main body.
While a patent doesn't necessarily confirm that Nintendo will release hinged Joy-Cons, it offers insight into the company's next hardware release. Months of reports from The Wall Street Journal, Bloomberg, and Japanese newspaper Nikkei have all teased an upgraded Switch which improves upon the original's specs, but it seems fans will need to wait at least a year for that souped-up Switch to release.
Nintendo of America president Doug Bowser told CNET in July that the Switch Lite would be the only new hardware the company releases for the 2019 holiday season. But company president Shuntaro Furukawa hinted Nintendo is constantly pushing the envelope with its devices.
"As a general rule, we're always working on new hardware and we will announce it when we are able to sell it," he said during an April earnings call. That means the company could be cooking up the Switch Pro to compete with the next-generation PlayStation 5 and Xbox Project Scarlett when they drop in fall 2020.
Improved ergonomics while the Switch is undocked could be a tremendous crowd pleaser. Nintendo told Ars Technica that docked and undocked play time was "about even" for the console in June 2018.
Leveling up its undocked play won't only enhance users experience, but it'll double down on one of the Switch's unique strengths: portability. No other console lets gamers play AAA titles on the go like Nintendo's.
A Switch Pro with hinged Joy-Cons could be exactly what the company needs to carve out a spot next to the PS5 and new Xbox.