New Nintendo Switch Is Coming in August but It's Not What Gamers Expected
New Switches are dropping left and right.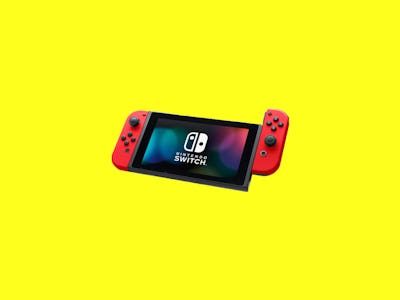 Nintendo
Nintendo only recently announced the new Switch Lite and yet another Switch is already on the way. And no, it's not the specced out "Switch Pro" that you may have been longing for.
The gaming giant announced Wednesday it would replace the original Switch. Not much will change though, the new model will cost the same ($300) and feature the same exact specs. The big difference will be a battery upgrade, and Nintendo tells Inverse the enhanced console will be made available in the United States mid-August.
"The revised model of the flagship Nintendo Switch system includes the same look as the original, but it has a longer battery life," said a company spokesperson. "The packaging for Nintendo Switch has also been given a new look. Consumers should start seeing the new packaging on store shelves around mid-August, but that will vary by individual stores and locations. The suggested retail price for both models is the same."
The new Switch's battery life is said to last anywhere between 4.5 to 9 hours depending on what game is being played. For example, it will provide about 5.5 hours of playtime when running The Legend of Zelda: Breath of the Wild.
That's a 2 to 2.5 hour improvement from the current Switch, which has a battery life of 2.5 to 6.5 hours undocked. It will also best the Switch Lite's battery life, which lasts 3 to 7 hours, according to estimates. These might be welcome improvements for users who primarily play their Switch in handheld mode, but other gamers were disappointed.
"It seems like only the battery life has been improved, there's no mention of any upgraded internals which is kinda disappointing but seeing as many people seem to prefer using their switch in handheld mode, it'll be a welcome change," wrote Redditor /u/KVShady. "Personally, I'm more of a docked player so it isn't much of an incentive to me."
Currently, a docked Switch can output 1,080p resolution on TV and larger displays, but that drops to 720p when played in handheld mode. Its portability and exclusive titles are its key selling points against Sony's PlayStation 4 and Xbox One Consoles. But with the next-generation PS5 and Xbox Project Scarlett on the horizon, its lack of graphics improvements on the Switch could prove a disincentive for some.
Sony and Microsoft are expected to push the boundaries of console graphics with consoles that support up to 4K resolution at 60fps for certain games. The Switch can push 60fps, but only at 720p resolution, which could be a let down for spec-obsessed gamers. On the other hand, that doesn't seem like the audience Nintendo is targeting.
After all, Nintendo is still lowering the barrier of entry for its exclusive titles, launching the $200 Switch Lite. It's clear that Nintendo seems to be posing itself as the affordable console gamers can take anywhere; it's not a hardcore rig with all the bells and whistles, and it isn't pretending to be.
Switch sales were already predicted to help Nintendo catapult past Sony and Microsoft in terms of console sales in 2019, according to the market research firm Strategy Analytics. Now, with two new consoles on the way it'll likely rocket past those expectations as Sony and Nintendo prepare for the the launch of their next consoles in 2020.
The second half of 2019 and early 2020 will be Nintendo's moment to shine.