'BoJack' Season 6 Release Date Canceled? Why Netflix Is Running Late 
Everyone's favorite depressed famous horse was supposed to be back by now. So what happened?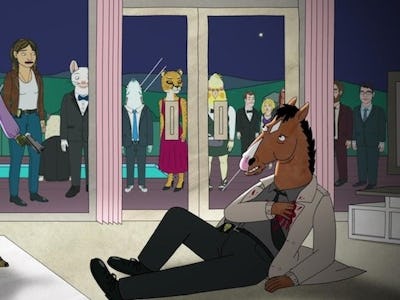 Netflix
It's been almost a year since BoJack Horseman Season 5 landed on Netflix, and given the show's yearly schedule, we've been expecting a BoJack Season 6 release date (or at least an announcement) for a while now. So what gives? Does Netflix need to quit horsin' around and give fans an update? What could be holding back the beloved cartoon's return?
The answer, as it turns out, has less to do with the creative process and more to do with worker's rights. (Wait! Don't go, trust me, this is important information if you ever want to see your pal BoJack again.) As The Hollywood Reporter revealed back in April, production on BoJack may have been delayed due to a push for unionization by the team of animators who create the show.
In fact, it turns out that of the dozens of cartoons on Netflix, BoJack was one of the only ones animated by a non-union shop. That changed in June when the animators agreed to unionize, guaranteeing health benefits and a living wage (which seems like the least they deserve for making such an awesome show.)
So what does that mean for the Season 6 release date? Back in May, BoJack himself (aka, Will Arnett) told ET Canada it was nearing completion. "We're closing to being done," he said, adding that Season 6 would definitely hit Netflix before the end of 2019.
And if you can't stand to wait any longer, well, maybe a bit of advice from BoJack will help put things in perspective:
"Look, for a lot of people, life is just one long hard kick in the urethra."
BoJack Horseman Season 6 is expected to release later this year.