There's a Post-Apocalyptic Thriller Hidden in 'BoJack Horseman' Season 5
It turns out post-apocalypse Hollywood isn't that different from regular Hollywood.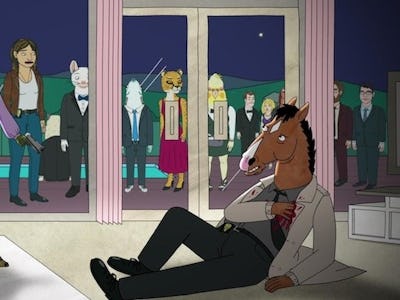 Netflix
BoJack Horseman Season 5 plays out like pretty much every season before it: BoJack struggles with fame, depression, and addiction, while the rest of the cast act out their own zany and sometimes deeply personal stories. But within BoJack Season 5 there's a second show, Philbert, and that one will be anything but familiar to fans of the Netflix animated series.
Warning: Spoilers for the ending of BoJack Season 5 ahead.
Near the end of BoJack Season 4, our hero signs on to play the lead role in Philbert, a trippy crime thriller about a hard-boiled detective who may or may not have killed his own wife (spoiler: I'm pretty sure he did). As the first season of Philbert ends, nuclear missiles inexplicably rain down on the show-within-a-show's version of Hollywood (something to do with the Mayor's submarine, maybe?), paving the way for a post-apocalyptic second season.
At a red carpet premiere, the first season of Philbert is well-received and a second season is quickly confirmed. In several scenes near the end of BoJack Season 5 we see the cast of Philbert shooting new material. Somewhat surprisingly, against a backdrop of post-apocalyptic Hollywood life seems to just go on. The only difference is that now food deliveries just take a lot longer.
Sadly, the second season of Philbert never arrives. Instead, the show is cancelled after the streaming company that's paying for it is forced to fire its sex robot CEO. (Believe it or not, this plot actually makes a lot of sense when you watch BoJack Season 5.) So we'll probably never get a fully detailed look at the post-apocalyptic world of Philbert — unless BoJack Season 6 takes the show in a dramatically different direction.
BoJack Horseman Season 5 is streaming now on Netflix.