This 'BoJack' Season 6 Fan Theory About Diane Is Dark — Even for 'BoJack'
Season 5's ending could be foreshadowing something terrible.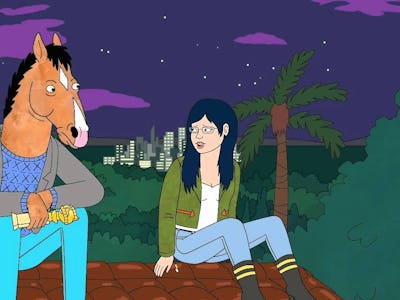 Netflix
BoJack Horseman Season 5 just released on Netflix last week, but if you're anything like us you're already wondering what to expect from Season 6. We've already covered the basics on when you can expect to see more of BoJack, but a compelling new fan theory about one character's Season 6 plotline may make you wish the show would just end with Season 5.
Warning: Light spoilers for BoJack Season 5 (and potential spoilers for Season 6) ahead.
The new theory from Reddit user WillFeedForLP is short and grim. Essentially, it argues that Diane Nguyen will die shortly after the end of Season 5, either before Season 6 starts or just as it's beginning.
Here's the full theory:
So in Episode 7 of Season 5, Diane is portrayed to as Princess Diana in the story told by her therapist to her wife.
Princess Diana died in 1997 when her car crashed inside of a tunnel. S5 ends with Diane driving into a tunnel, but she isn't seen coming out. Foreshadowing is used a lot in the show such as the "Choking women is bad" scene near the start of the season- so it wouldn't be surprising if the princess Diana character was also foreshadowing to this event if it was to happen.
This whole thing may seem like a stretch, but as WillFeedForLP notes, BoJack often leans heavily on foreshadowing to hint at some of its grimmest moments. For example, in Season 4, you might notice BoJack's long-lost sister Hollyhock losing weight slowly over the course of several episodes before it's revealed that BoJack's mother has been secretly drugging her. Sarah Lynn's death in Season 3 was also foreshadowed early on — pretty much as soon as we first met her — with rampant drug abuse and a reliance on her fans.
Diane's foreshadowing here is a little more subtle. After all, she's only referred to as Princess Diana in a single episode, and it's mostly just played for a joke (in the same episode Todd becomes Emperor Finger-Face). Still, fans of the show have been trained to pick up on even the most subtle clues, and the fact that Diane is last seen driving into a tunnel certainly doesn't bode well for the character.
BoJack Season 5 is streaming now in Netflix.