Let's Make Sense of Those Leaked Marvel 'What If...?' Images
Marvel is gonna get weird in its new Disney+ series. Here's what those first images are all about.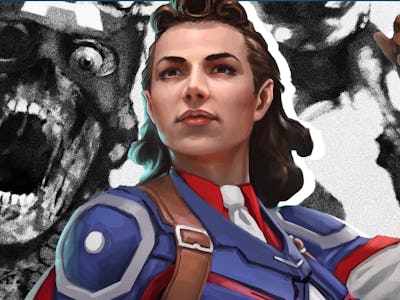 Marvel Entertainment
Of the many new Marvel shows that will air on Disney+, the strangest is the animated What If…?. Low-resolution images from the new series have made its way online, and while we can spot a few familiar faces, it's actually difficult to parse out just what in the name of Uatu is going on.
At the recent Disney convention, D23 in Anaheim, California, Marvel revealed the first look at the CGI animated series What If?. These images have now surfaced online via Twitter, through a user named @Q82004yousef1.
Based on the classic Marvel anthology comics, What If? will explore alternate events and scenarios that didn't happen in the Marvel Cinematic Universe.
For example: What if Peggy Carter was injected with the super soldier serum instead of Steve Rogers? Or, what if Loki wielded the hammer Mjolnir instead of Thor? All these and more will be explored in 3D animation.
All, if not most of the series' biggest characters will be voiced by their film actors, including Tom Hiddleston as Loki, Natalie Portman as Jane Foster, Michael Douglas as Hank Pym, Samuel L. Jackson as Nick Fury, Paul Rudd as Ant-Man, and so on. Additionally, the series will be "hosted" by the character Uatu the Watcher, an alien who observes Earth's mightiest heroes and voiced by Jeffrey Wright (of James Bond and Westworld fame).
The series does not have a definitive premiere date, but it is scheduled to begin streaming on Disney+ in 2021.
The images, seen below, mostly feature just a handful of Marvel characters, and likely come from just the first few episodes of the series. But they're quite revealing as to where What If? will take viewers. Below is our breakdown of every image to suss out what the first season will entail.
Below, our breakdown at what you see in What If?.
T'Challa as Star-Lord
In literally the first image shared by @Q82004yousef1, we see T'Challa — voiced by Chadwick Boseman — in the jacket of Star-Lord (normally played by Chris Pratt). Another image shows T'Challa wearing Star-Lord's mask on what looks like an alien planet. What makes T'Challa as Star-Lord extra unique are markings of Vibranium teeth (like his necklace as Black Panther) on his jacket.
This is an interesting scenario with no precedent in the comics. Rather than the King of Wakanda, T'Challa is instead an intergalactic junker. What's that like? It's a compelling and unexpected theoretical scenario that makes the show far more exciting than just loose adaptations of comic book storylines that can't be movies. Any guesses on what's on T'Challa's playlist? Probably the most fire Marvel soundtrack of all time.
Marvel Zombies!
Just in time for Halloween! Another image shows Captain America as a zombie, which some fans picked up on after zooming into the high-resolution What If? logo. At this point, you can bet that What If? will feature a loose adaptation of the popular Marvel Zombies series.
A non-canon universe where an unknown virus infects the entire Marvel Universe, Marvel Zombies has become its own sub-franchise underneath Marvel with multiple titles, merchandise, and even crossovers with horror properties like Army of Darkness. In this parallel universe, Earth-2149, Captain America actually went by the name Colonel America.
Peggy Carter, Captain America
The first confirmed episode of What If? will explore an alternate timeline in which Peggy Carter is injected with the super soldier serum to become Captain America. This is the source of most of the other leaked images, which also feature Bucky Barnes (Sebastian Stan), and two images of Steve Rogers (Chris Evans) who appears to take Bucky's place as Peggy's sidekick.
The idea has been explored in the comics before, but Peggy Cap was actually introduced in a video game. In 2018, the Marvel mobile game Marvel Puzzle Quest introduced Peggy as Captain America. She later appeared in the series Exiles, written by Saladin Ahmed in which a roster of oddball Marvel characters explored the Marvel multiverse.
Another image shows Peggy, again as Captain America, riding on a bulky Iron Man suit (reminiscent of the Mark I armor seen in 2008's Iron Man). It seems Iron Man doesn't exist as the product of a weapons billionaire hoping to escape a cave, but as a project for America in World War II.
What If…? does not yet have a premiere date on Disney+.