'Super Smash Bros. Ultimate' New DLC Fighter Could Be Revealed Tomorrow
Rumor has it they come from SNK, but who could it be?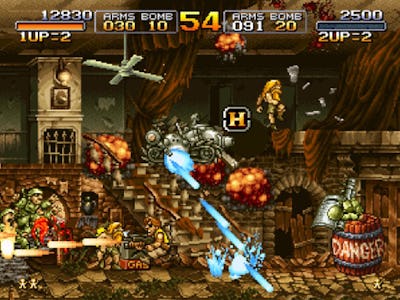 SNK
After months of speculation, Super Smash Bros. Ultimate fans received hard evidence about who the fourth DLC fighter could be. Nintendo UK accidentally published a webpage revealing what company the character would come from and it was completely out of left field.
The now-deleted listing didn't specify exactly who would come to Smash Bros. Ultimate next, but it'll be a character from fellow Japanese gaming publisher SNK. Nintendo has since taken the page down but Twitter user PushDustin discovered and posted screenshots of the leak, which listed SNK's trademark and a February 29, 2020 release date for the unnamed fighter. However, gamers could find out who will succeed Banjo & Kazooie very soon.
PushDustin's leak came only days before Nintendo announced it would host a Direct on September 4 starting at 6 p.m. Eastern. The company said the video presentation would last 40 minutes and cover upcoming "2019 Nintendo Switch games," like Pokémon Sword & Shield and Luigi's Mansion 3. But a 40-minute Direct leaves plenty of room for surprises.
Nintendo could take a few minutes to tease its first DLC Smash Bros. Ultimate character for 2020 by announcing Banjo-Kazooie's release date and full skillset, similarly to what it did during E3 2019. Or it could go even further by teasing the DLC character after that.
Its June 11 Direct detailed the abilities of the most recently released DLC character The Hero and revealed that Banjo-Kazooie would be joining the battle in Fall 2019. The September 4 could give fans another glimpse of the anamorphic bear and its avian companion, their official release date, and announced what SNK character could come next.
Who Will the Fourth Smash Bros. Ultimate DLC Fighter Be?
The Smash Bros. Ultimate community has been frantically trying to figure out who will join the roster after Banjo-Kaozzie for months now. An overwhelming majority of rumors have stemmed from sketchy, online forum 4chan suggesting that characters like Crash Bandicoot, Doomguy, and even Overwatch's D.Va could be on the horizon.
PushDustin's leak is the only information we've seen come straight from Nintendo, making it the most legitimate claim to date. But because SNK has such an extensive library of games, it's still unclear who it might bring to Smash Bros. Ultimate.
SNK manufactured the Neo-Geo arcade cabinets of yesteryear and has multiple fighting games and side-scrolling platformers under its belt. It owns the Samurai Shodown, Fatal Fury, and King of Fighters franchises, which all have dozens of fighting characters that could be ported to Smash Bros. Ultimate.
It's also created the spaceship shoot 'em game Pulstar and classic side-scrolling shooter Metal Slug. Marco Rossi, Metal Slug's protagonist is SNK's most well-known character along with Haohmaru and Nakoruru from Samurai Shodown. These three could be Nintendo and SNK's top picks based on their popularity, but gamers will need to wait until Wednesday's Direct to be sure.
All of the Smash Bros. Ultimate DLC fighters can be purchased with either the $24.99 Fighter Pass or individually for $5.99 upon their release.