Google Stadia at Gamescom 2019 Was a Huge Letdown — Except for One Detail
Not exactly the splash we expected.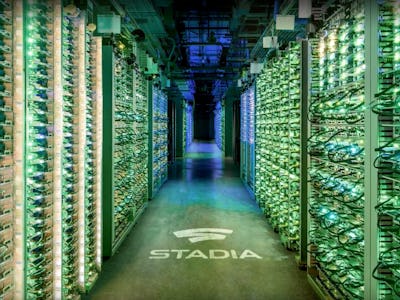 Google
Google's Stadia Connect event ahead of Gamescom 2019 in Cologne, Germany was one big disappointment. No release date, no new launch details, just a few measly announcements and one awesome nugget of news.
The tech giant has taken a page out of Nintendo's playbook and began announcing updates to its cloud-gaming service via pre-recorded videos. These scripted briefs are supposed to answer gamers' most burning questions, but Google failed to address key questions surrounding Stadia less than three months before it's set to release. However, there was one redeeming detail.
The second-ever Stadia Connect focused exclusively on a handful of titles that will be playable on the platform. Google revealed seven new games that would be coming to the platform, the marquee release being Cyberpunk 2077.
Cyberpunk 2077 on Google Stadia
The highly anticipated first-person roleplaying game is being developed by CD Projekt Red and will be released on April 16, 2020 on all major platforms, now including Stadia.
"It's a very technologically demanding game, but with Stadia you can actually play it respectively on the power of your devices," said Jakub Szamałek, principle writer for the game.
Gamers will be able to traverse Night City, an impoverished, crime-ridden city in the Free State of California, on select smartphones, laptops, and using a Chromecast Ultra. No expensive consoles or PC rigs required.
The game's defining feature is its customization. Players can pick the main character's look, cyberware, skill set, and play style to explore the game's grungy West Coast setting, with the help of Keanu Reeves, of course.
Other Stadia Announcements at Gamescom
Monday's Stadia Connect included six other titles that will join Stadia's previously announced, 31-game roster:
Kine - 2019
Orcs Must Die 3 - Release Date Unknown
Windjammers 2 - 2019
Destroy All Humans! - 2020
Superhot - Out Now
Attack on Titan 2: Final Battle - Out Now
These additions might make Stadia more tantalizing for certain fans, but there are still a lot of uncertainties surrounding the cloud streaming service.
There's still no hard fast release date, only a vague "November 2019" launch widow. There were no updates as to when Stadia will expand its limited hardware support. Plus both Stadia Connects have failed to quell concerns that the service could suffer from frustrating lag issues.
Google has only let gamers in on what titles it's planning on hosting and a price tag. Early adopters will need to pick up the $129 Stadia aFounders Edition bundle, which comes with a Stadia Controller, Chromecast Ultra, and a three-month subscription.
That purchase will give users access to its full roster of games, which now includes 36 titles:
Assassin's Creed Odyssey
Baldur's Gate 3
Borderlands 3
Darksiders Genesis
Destiny 2
DOOM (2016)
DOOM Eternal
Dragon Ball Xenoverse 2
Farming Simulator 19
Final Fantasy XV
Football Manager
Get Packed
GRID
Gylt
Just Dance
Metro Exodus
Mortal Kombat 11
NBA 2K
Power Rangers: Battle for the Grid
Rage 2
Samurai Shodown
The Elder Scrolls Online
Thumper
Tomb Raider Definitive Edition
Shadow of the Tom Raider
Rise of the Tomb Raider
Tom Clancy's Ghost Recon Breakpoint
Tom Clancy's The Division 2
Trials Rising
The Crew 2
Wolfenstein: Youngblood
Kine
Orcs Must Die 3
Windjammers 2
Destroy All Humans!
Superhot
Attack on Titan 2: Final Battle
Stadia will be available in November 2020.