Google Stadia: New Launch Details Reveal Massive Disappointment for Gamers
This was not exactly what it was hyped up to be.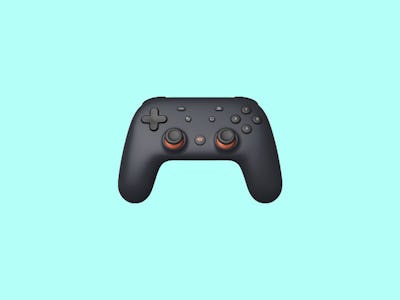 Google
Google made an instant gaming industry splash with the announcement of its cloud streaming platform, Stadia, in March. The subscription service promised gamers access to a roster of AAA titles on any device with little-to-no lag. But as Stadia gears up to launch in November, Google has revealed that its streaming buffet won't be so widely accessible after all, with hardly any availability on mobile devices.
The tech giant recently updated Stadia's FAQ page on July 3 to give early adopters and skeptics alike a better idea of what to expect when the service launches in November. Buried in the FAQ — about half way through the list — you'll find a crucial detail that only a select number of smartphones will initially support Stadia.
Notably, the list of eligible devices excludes iPhone and Samsung Galaxy. These are, of course, the smartphone makes that most Americans use.
A Google spokesperson told Inverse that the company will share a list of more supported devices in 2020. Until then here are all of the devices Stadia will run on in November.
Google Stadia: Limited Smartphone Support
Here's how Stadia's newly updated passage about device eligibility reads.
"At launch we will be supporting Pixel 3 and 3a devices (3a, 3a XL, 3, 3XL) phones for mobile gameplay, more devices will be made available in the future. However purchasing games and managing your content can be done from any iOS 11+ or Android M+ device that can run the Stadia app."
Look, Pixel phones are pretty great. But by releasing Stadia exclusively to Pixel consumers to start, Stadia will be incompatible with the vast majority of handsets.
Google Pixel doesn't even make CounterPoint Research's quarterly assessment of smartphone market share in the United States, which still finds Apple and Samsung commanding a dominant 69 percent. LG and Motorola together command 18 percent. It's not clear how much of the remaining 13 percent in market share belongs to Pixel. But even if it was all Pixels, that's still barely one in ten smartphone owners who will be able to use Google's democratizing new gaming service.
Google also did not provide any details as to when Stadia will become available on other smartphones brands (we reached out to Google for elaboration on this particular point and will update if we hear back).
Google Stadia: No Tablet Support
That's not all. If you were hoping to run Stadia on a tablet, you'll also be out of luck. The FAQ went on to say that Stadia will not be available on any tablets when it becomes available and when that feature rolls out it will also be limited.
"Tablets running Chrome OS, and more devices will be made available in the future."
At least as of now, only three major tablets and tablet-hybrids run on Chrome OS: the Pixel Slate, HP Chromebook 2X, and Acer Chromebook Tab 10. These devices make up a tiny portion of the global tablet market share, which is dominated by Apple's iPads according to a report from the second fiscal quarter of 2018 by the International Data Corporation.
Google Stadia: All Laptops (Using Chrome) and All TVs (With a Chromecast)
Apple consumers will still be able to use Stadia, for example through Apple laptops and TVs, but there'll still need Google products to do it.
Stadia will only run on the Chrome web browser on laptop and desktop computers. This isn't a big deal, however, as more than half of people worldwide use Chrome already, according to data complied by W3Counter.
The cloud gaming service will work on any TV that's equipped with a Chromecast. Users who want 4K resolution will need to pick up a $54 Chromecast Ultra, any other Chromecast will be capped at 1,080p resolution.
Google Stadia: How It Compares to xCloud's Availability
While Microsoft has yet to announce an official release date or game roster for its xCloud streaming service, it has already demonstrated that it will run on more popular devices that Stadia.
Inverse tested xCloud at E3 2019 on a Samsung Galaxy S10+ and the gaming-centric Razer Phone 2. Samsung is the most popular smartphone brand in the world. Whenever xCloud does roll out, it will still be widely available to people on their mobile devices from the start.
Stadia might be the first mobile game streaming service to become publicly available. But its limited scope is bound to disappoint huge swaths of gamers who were promised console games on their smartphones in 2019.
Google has yet to announce a concrete release date, but expect one to be revealed as November approaches.