'Mindhunter' Season 3 Needs a Big Time Jump for One Haunting Reason
It's the only way to truly solve one of the show's biggest mysteries.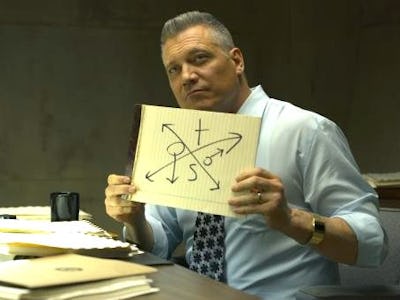 Netflix
Mindhunter Season 2 picked up right where the previous season left off, but if the David Fincher true-crime drama wants to tell a complete story, then Season 3 will need to jump far into the show's future. The reason why is simple: One of the show's most iconic serial killers was never unmasked until the early 2000s, and if the series wants to tell that tale to its end, then Mindhunter Season 3's release date may need to introduce a major change to the Netflix show.
Warning! Spoilers for Mindhunter Season 2 ahead.
Dennis Rader (aka, the BTK killer) has been a fixture of Mindhunter since Season 1, but in Season 2 he looms over everything our heroes do. The very first scene of the new season features Rader in the middle of some disturbing ritual. We revisit the true-to-life character at the start of various episodes, and Season 2 even ends with BTK engaged in some truly bizarre behavior in the privacy of his home.
Meanwhile, Rader has been killing people in the Wichita, Kansas area, taking inspiration from other serial killers like Ed Kemper and David Berkowitz (aka, Son of Sam). He sends letters to the press like Berkowitz, giving himself a nickname and a copycat symbol. One episode of Mindhunter Season 2 even focuses on protagonist Bill Tench visiting Kansas to investigate the murders, but he comes away empty-handed.
It's tempting to think that Tench and his partner Holden Ford will eventually crack the BTK case in Mindhunter Season 3, but if the series picks up again right after Season 2, that definitely won't happen. The reason why is simple: In real life, Dennis Rader wasn't caught until 2005, several decades after the events of Mindhunter.
In fact, the BTK killer managed to completely avoid detection even while sending letters to the press. Eventually, he stopped killing and the case went cold. Then, in 2004, he returned.
Ultimately, it was the advance of technology that brought Rader to justice. He sent a floppy disc to the local news station containing a letter, and the police were able to access a deleted Microsoft Word document on the disc that eventually led to his arrest.
If Mindhunter keeps going at its current rate, we won't see the BTK killer apprehended for many, many seasons. And considering Netflix's penchant for canceling shows after just three seasons, it's unlikely the series will last that long. Considering the way Season 2 ends on a cliffhanger, a renewal seems likely, but Mindhunter Season 3 might be the end. So if Fincher and co. want to show us how Rader was caught, they'll have to jump a few decades into the future.
To be clear, I'm not suggesting the entire series leap forward to the early 2000s. I still want to see what happens with Wendy, Holden, and Bill right now. But perhaps when Mindhunter Season 3 arrives, those BTK-focused vignettes at the beginning and end of various episodes can leap forward into the future to show us why Rader stopped killing, decided to start again, and was ultimately caught using some of the crime-solving methods invented by the show's protagonists.
Then again, if Netflix wants to give us 30 more seasons of Mindhunter I won't be the one to complain, but this seems like an easier solution.
Mindhunter Season 2 is streaming now on Netflix.