Where to Find the Secret Battle Star in 'Fortnite' Season 10, Week 3
Y'all want some ice cream?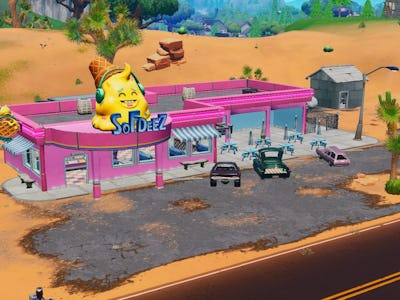 Epic Games
Fortnite: Battle Royale data-miners have kept up with the pace of weekly loading screens. So we already know what Week 3's loading screen looks like and where to find its hidden secret battle star.
"The Leftovers" mission set unlocked in Fortnite on Thursday. Like Week 1's "B.R.U.T.E. Squad" and Week 2's "Shootout at Sundown," this new set will grant players a special loading screen reward once they complete three challenges from the limited-time set. Because these challenges unlock one per day at 9 a.m. Eastern, it won't be possible until Saturday morning when the third challenge unlocks.
The loading screen has apocalyptic vibes reminiscent of last year's Fortnitemares Halloween event, because there are what look like cube monsters amassing in a horde. The two characters and the truck behind them definitely look like we're in some dark zombie apocalypse.
It's therefore a bit ironic that the clue, located on the bottom left of the truck in this image, is a drawing of the Sof Deez logo … a fancy pink ice cream parlor.
The clue itself is really hard to see, but it's the outline of a smiling scoop of ice cream. This can only relate to Sof Deez, which is located in the northern section of the desert.
We won't know the precise location of the battle star until after players confirm it sometime on Saturday morning, but so far it looks like it'll be located directly behind the counter in the southwest corner of the building. If you walk directly through the front door, you should be able to leap over the counter, and the battle star will spawn just barely to your left.
Again, players will have to complete any three Leftovers challenges before they can unlock the loading screen, which then unlocks the battle star. Here are all of the challenges that have leaked:
Deal damage with Explosive weapons to opponents (250)
Shotgun Eliminations (5)
Eliminate members of the Horde at Retail Row (20)
Outlast opponents in Duos or Squads mode (150)
Use a throwable item in different matches (3)
Visit Paradise Palms and Lucky Landing in the same match (2)
Search Chests at Salty Springs or Frosty Flights (7)
In retrospect, it makes a lot of sense that this loading screen would feature the cube monsters, aka "Horde members," because the Rift Zone over Mega Mall transformed it into Fortnitemares-era Retail Row, complete with these beasts.
All of these challenges are straightforward and easy, so players shouldn't have a hard time at all. What's nice is that many grenade-based explosive weapons also count as throwable items. By the time that challenge unlocks, however, the dedicated players out there will have already grabbed this secret battle star.
The Fortnite Leftovers mission, its loading screen, and the secret prize will only be available from August 17 through August 22.