Where to Find the Secret Battle Star in 'Fortnite' Season 10, Week 2
Here's exactly where you can find it and when.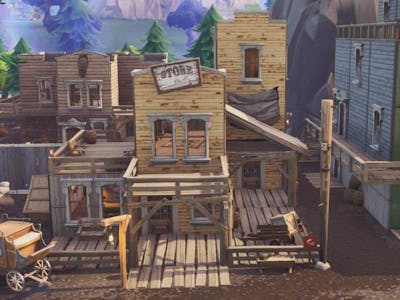 Epic Games
Weekly loading screen challenges changed drastically in Fortnite: Battle Royale Season X, as we described in Week 1 with the B.R.U.T.E. Squad mission. For Week 2, the second loading screen is connected to another free mission called Shootout at Sundown that lasts from August 8 to 15.
One new challenge unlocks each day at the standard refresh time of 9 a.m. Eastern, and anyone who completes three of these challenges will unlock a special loading screen that contains a clue. That clue leads to a prize that's probably another secret battle star, but we won't really know for sure until Saturday, August 10 when the third challenge unlocks and players complete it to unlock the loading screen.
The loading screen seemingly takes place in Tilted Town, created by the Rift Zone currently in place at Neo Tilted that transforms it into a Wild West-themed town. The clue, on the top-left side of the screen, looks like a crudely drawn fork and knife.
The last time this landmark was referenced as part of a challenge was for a Season 8 treasure map. An in joke with fans who refer to "Fortnite" as "Fork Knife," these two small ravines are just northwest of Fatal Fields.
The loading screen doesn't specifically indicate any particular part of the fork and knife, and because it isn't officially unlocked just yet, there's no way to know for sure. Still, it's all but guaranteed that a couple minutes wandering around these dinner table utensils will get you whatever prize exists — assuming you've already unlocked the loading screen.
Another thing that remains unconfirmed are the Shootout at Sundown challenges. Based on data-mining, here are all seven of the Shootout at Sundown challenges that will gradually unlock one per day:
Place Top 10 in Solo or Duo matches
Pistol eliminations
Search ammo boxes at Tilted or Junk Junction
Deal damage to descending supply drops
Pick up an item of each rarity
Land at Tilted or Fatal Fields in different matches
Deal damage with Assault Rifles to opponents
All of these are fairly easy. If anything, dealing damage to supply drops will be the most difficult because of its unpredictability. But hey, you only need three of them, right?
Fortnite: Battle Royale Shootout at Sundown challenges are only active until August 15.