'Fortnite' Season 10 Teaser 3 Leaks the Return of a Classic Skin
Drift is back, but what about that new skin on the left?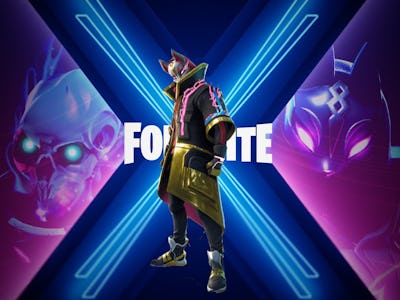 Epic Games
We're just a few days away from Fortnite: Battle Royale Season 10, and new details are coming in fast and furious. On Tuesday morning, Epic Games released Teaser 3 for the incoming update, doubling down on the time travel theme while hinting at the return of a classic skin from Season 5. Drift is back, but what about that that Ghostrider-looking dude on the left?
If you don't recall, Drift was a Battle Pass skin introduced in Season 5. It was one of those skins that gets more complicated over time, starting as a pretty normal looking human character and eventually becoming the thing pictured at the top of the page. The version of Drift being teased for Fortnite Season 10 definitely looks a bit different, but combined with the new tagline, "Twist Time," this seems to suggest that at least part of the game will now take place during previous seasons.
It's worth noting that a previous Season 10 teaser showed Dusty Depot, which was destroyed back in Season 4. So it seems Fortnite may offer a sort of greatest hits tour through the past nine seasons to celebrate Season 10. The previous tagline, "Think Back," certainly suggests a bit of a nostalgia factor.
Don't expect Fortnite Season 10 to be a pure nostalgia fest, though. Another teaser makes it clear we'll be looking to the future, too.
We still don't know exactly what to expect from Fortnite Season 10, but it's becoming apparent that the battle royale game will celebrate 10 seasons with a look back at its best moments — and maybe a glimpse of the future as well. We'll find out more when the next big update officially hits.
Fortnite Season 10 starts on Thursday, August 1.