Scientists Develop a Marijuana-Based Treatment for Cannabis "Addiction"
"There is no doubt that cannabis is addictive."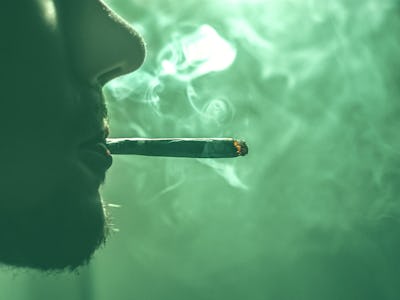 Unsplash/ Gras Grün
If you want to quit smoking cigarettes, there's an entire industry ready to sell you ways to wean yourself off them. But for people who want to stop smoking marijuana, the options are far more limited. In a recent trial, a team of scientists in Australia, armed with a THC- and CBD-laced mouth spray, is hoping to change that by using marijuana's own components to help users control their habit.
In a series of experiments in Australia and Canada, teams of scientists have been testing the effects of a drug called nabiximols on cannabis dependency, which is one way to describe an addiction to marijuana (more on that later).
A paper on the Australian study was published Monday in JAMA Internal Medicine and concluded that regular smokers who used nabiximols smoked 18.6 fewer days than those who took a placebo medication over the course of a 12-week experiment. This finding suggests it might be able to help people wean themselves off a weed habit.
"We would like to see the use of cannabinoid based medicines become a routine part of treatment
Nabiximols is actually a cannabis extract that's been formulated to contain equal parts THC, marijuana's psychoactive component, and CBD, a minimally psychoactive, loosely regulated molecule sold in chill-out seltzers for millennials and treats for pets. Nabiximols, which patients take by spraying under their tongue, is sold under the brand name Sativex for the treatment of multiple sclerosis symptoms, but it's not yet approved in the United States.
Right now, nabiximols isn't approved to treat marijuana dependency anywhere in the world. But maybe one day it could be, says lead study author Nicholas Lintzeris, Ph.D., an addiction medicine specialist at the University of Sydney School of Medicine.
"Ultimately — we would like to see the use of cannabinoid based medicines become a routine part of treatment for cannabis dependence —linked to counseling and other psychosocial approaches," he tells Inverse
Can You Be "Addicted" To Weed?
Nabiximols, if licensed, isn't a treatment for a casual weed smoker who may want to smoke a little less. It's for people who have a relationship with marijuana that qualifies as "marijuana use disorder".
The NIH describes marijuana use disorder as a feeling of dependency — or problematic use that in some cases can rise to the level of addiction. When the supply is cut off, people with marijuana use disorder tend to feel irritability, sleeplessness, or physical discomfort that peaks within the first week of quitting. That discomfort, the NIH states, is partially because the brain adapts to the influx of cannabinoids, and as a result reduces the amount of endocannabinoids that the body produces naturally.
"There is no doubt that cannabis is addictive."
Bernard Le Foll, Ph.D., the head of translational addiction research at Toronto's Center for Addiction and Mental, health agrees that these symptoms qualify as addictive. Le Foll isn't associated with this study, but has done past research on nabiximols for marijuana dependency.
"There is no doubt that cannabis is addictive," he tells Inverse. "It is estimated that 9% of users lifetime will develop cannabis dependence. A larger fraction will develop a loss of control on their use at some point of their life."
Both Le Foll and Lintzeris note that dependency on cannabis is not the same as being addicted to another drug, like cocaine. From a clinical standpoint, addictions manifest differently depending on what drug you're talking about, so it's hard to compare them directly. But even if you do compare them, the harms from cannabis dependency, says Lintzeris, tend to be minor compared to those that stem from, say, opioid addiction, which has been responsible for tens of thousands of deaths in the United States.
"I would summarize cannabis dependence as very common (estimated at 10% of cannabis users), but that most people experience minor levels of harms. But nevertheless, it can be difficult for some people to stop or control their use," he says.
That's why his lab taking a look at how cannabinoids may be able to help ease the transition.
Nabaximols and Cannabis Dependency
This most recent study was a double blind, placebo-controlled trial on 128 smokers in Australia who had smoked at least 2-3 grams daily and had expressed interest in stopping, mostly because of social and health problems as a result of their habit.
Each day, they got a dose of nabiximols and performed a total of six courses in cognitive behavioral therapy, a method that has shown past promise for addiction treatment. The volunteers in the study got an average of 9.5 sprays of nabiximols each day, which amounted to 47.5 milligrams of THC and 44 milligrams of CBD.
In terms of using cannabinoids to wean someone off of cannabis, this spray functions slightly more like a nicotine gum might for a smoker. Give someone small, controlled doses, and along with therapy, they might be able to quit the habit over time.
Notably, this trial didn't measure total abstinence, which is the goal of smoking cessation programs. But it did show promise in helping people back off of a weed habit, which adds to growing interest around cannabinoids' medicinal applications.
Cannabinoids like CBD do seem to have wider applications in medicine, and even addiction science. For example, both CBD and THC are being explored as treatments for opioid addiction — particularly, because they both seem to affect dopamine, the brain's pleasure-related neurotransmitter that's hijacked in opioid-addicted patients.
"There is so much potential for the use of THC, CBD, and other cannabinoids in the treatment of not just cannabis dependence — but also alcohol, opioid, and stimulant dependence," says Lintzeris. "Cannabinoids are likely to have a big impact upon the practice of addiction medicine."
If his team's results hold up, another one of marijuana's future forays into medicine might be to help people who have become dependent on the plant itself. The right combination of cannabinoids, ironically, may be just the thing to help wean people off of them.
Key Points:
Question: Is cannabinoid agonist treatment, in combination with psychosocial services, a safe and efficacious approach to reducing illicit cannabis use in patients with cannabis dependence who are seeking treatment?
Findings: In this randomized clinical trial of 128 participants, a 12-week course of nabiximols, a combination of tetrahydrocannabinol and cannabidiol, resulted in significantly fewer days of illicit cannabis use compared with placebo, and was well tolerated by participants.
Meaning: The use of cannabinoid agonist medication appears to be a promising addition to the treatment of patients with cannabis dependence.