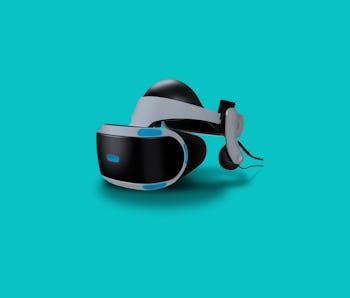 Gaming
PS5: Patent Filings Detail Sony's Plan to Make a Breakthrough VR Headset
Sony has groundbreaking VR plans in its future.
Sony
Virtual reality has been a fixture of the PlayStation 4 since Sony launched PlayStation VR in 2016, whose hardware attachments let gamers transform their console into full-fledged VR rigs. Rumor has it that, VR-wise, the PS 5 will follow in its predecessor's footsteps.
Sony has already confirmed that its next-generation console will be compatible with current PSVR hardware, but it's also clear that the entertainment giant has much bigger plans for VR further down the line.
A surge of recent patents and leaks have made it increasingly clear that the company is in fact developing new PSVR equipment. The robustness of some of the leaks gave some credence to the theory that the headset would even launch alongside the PS 5, though it looks more likely now that the company will space these hardware launches out, while future-proofing the initial PS 5 console with VR-centric specs. 
Sony's New VR Headset: What We Know
While we might have to wait until late 2020 and beyond to actually get our hands on one, we already have a pretty good idea of what's in store. One of the most exciting breakthroughs? The many patent blueprints published so far have all suggested that the headset would be completely wireless.
Leaked specs have also revealed the price, claiming that a variant that costs $250 will support 2,560-by-1,440 resolution, a 120-hertz refresh rate, provide a 220-degree field of view, five hours of battery life, and eye-tracking support. And on June 11, Sony also confirmed that it's working on a VR headset which can track users' head position and eye movements in a patent application published by the USPTO.
There are some other interesting feature allusions in the patent. The document lays out plans to build a VR headset that uses acceleration and gyro sensors to detect how users tilt their heads to better guess what they're looking at on-screen. This small addition could go a long way toward reducing the disorientation that makes many VR novices nauseous, and greatly improve the console's ability to output high resolution VR graphics at smooth frame rates.
Here's a summary of what the patent covers:
"The detection section detects the posture of a head-mounted display worn on the head of a user. The status determination section determines a user's gaze direction and a binocular inclination angle in accordance with the posture of the head-mounted display, which is detected by the detection section."
PS5: Foveated Rendering
Another key feature that's been cited in patents is a new graphics rendering technique called foveated rendering, which will help the headset cut down on GPU loading times. Graphics cards using foveated rendering only supply high-quality graphics to the parts of an image a gamer is most likely to be looking at, and greatly reducing the quality of images in their peripheral vision.
This feature will hopefully allow the PS5's GPU to better allocate its resources to provide a seamless experience to parts of games players are actually interacting with instead of slowing down to render things they aren't even looking at.
Eye tracking would seem like a secondary feature, but it's anything but. Accurately tracking users' inter-pupillary distance (IPD) will allow the system to greatly reduce eye strain relative to other VR headsets. If you've ever had to pause and readjust a VR headset because the game seemed off level, this improvement will come as a relief.
Eye-tracking VR headsets could even adapt to how users' eyes are positioned, eliminating the need to adjust the head strap for many users. This will all help make the technology less jarring and more welcoming to newcomers while also making it easier for hardcore gamers to play for longer sessions.
In short, one small tweak could usher in a new age of hyper-realistic VR worlds.