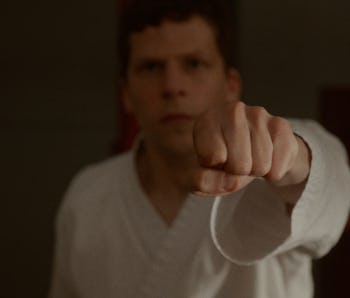 Entertainment
'The Art of Self-Defense' Review: Dark Karate Satire Packs a Serious Punch
Jesse Eisenberg and Imogen Poots star in a dark, hilarious satire that sweeps the leg of toxic masculinity.
Bleecker Street
You can almost smell the blood, sweat, and feet stains emanating from Jesse Eisenberg's stained karate gis. In The Art of Self-Defense, the newest dark comedy film from writer/director Riley Stearns, harsh fluorescent lighting illuminates the darkness that festers in a neighborhood McDojo.
A brilliant comedic stunner, The Art of Self-Defense trades the exaggerated theatrics of other martial arts comedies, like Kung Fu Hustle and Drunken Master, or the self-parody of Black Dynamite, for a tone more disciplined but no less subtle. The film is a two-hit combo of laugh out loud satire that clowns toxic masculinity and the eerie underbelly of the human condition in equal measure.
In The Art of Self-Defense, in theaters July 12, Jesse Eisenberg stars as Casey, a neurotic beta-male who is violently attacked one night by a motorcycle gang. To cope with his trauma, Casey enrolls in a karate school run by a square-jawed chauvinist, Sensei (Alessandro Nivola), who rules his class with an iron foot. As Casey regains his confidence while learning martial arts under instructor Anna (Imogen Poots) he discovers a horrifying truth.
Bold, brash, and effortless in its delivery of laughs splattered by darkness, The Art of Self-Defense is simply one of the funniest movies of 2019. It's Coen Brothers Lite, evocative of the same gallows humor as the duo's Burn After Reading without the pizzazz. But damn if that doesn't mean Self-Defense doesn't do its own thing. The film relies on Stearns' wit as a storyteller along with its leads Eisenberg and Nivola, a killer pair who imbue every scene with equal parts humor and tension.
Despite a diverse filmography, Eisenberg's work is illustrated by neurotic, nervous, and over-competent characters. His Mark Zuckerberg in The Social Network always had someplace better to be, while his Lex Luthor in Batman v Superman was a sociopathic genius who believed he deserved godhood.
As Casey, Eisenberg ventures to the far, far opposite end of Zuckerberg/Luthor while maintaining the same manic energy of his evil billionaires. Casey isn't explicitly effeminate, but his best friend is a Daschund and he studies French — a language of quitters according to Sensei. He's heavily contrasted by the bros in his dead-end office job, and he's pushed around until karate gives him a fighting stance.
While most dark comedies appear trained in all styles of kung fu but master none, The Art of Self-Defense is the undisputed master of one. There's a rhythm to Stearns' set-up/punchline that the movie rides to the finish line. Even when the story intensifies and engulfs its characters, the film never has to try too hard for a laugh. Even its shocking ending, which I predict may polarize even the most forgiving fans, is so violent and loud and keeping with the story, you can't help but crack up.
It's through Casey navigating Sensei's edgelord masculinity that The Art of Self-Defense finds fresh humor in toxicity. Sensei, played brilliantly by Nivola, is a dangerous blowhard who wants to make men great again. He's abusive, conniving, and manipulative; a cult leader with a black belt.
His psychological abuse towards his students, most of all Poots' Anna — a black belt stuck with a brown belt and relegated to teaching the kids' classes because she's a woman — is too familiar behavior that when the film makes it funny, you're always meant to laugh at Sensei. He's the butt of the joke, every time, and he's blissfully ignorant.
Sensei's inevitable collision with Casey later in the film is not only a clash of personalities but a clash of what defines modern men. The Art of Self-Defense isn't as provocative as David Fincher's continually misunderstood Fight Club, but Self-Defense may be more effective at communicating how goofy men look when they're puffing out their chests.
Just like in his 2014 freshman film Faults, Riley Stearns again explores the funny imbalance of power (both literal and psychological) between broken people and the chest-beating bravado of cult personalities.
This time Stearns, who told me in an interview (coming soon) he's a jiu-jitsu practitioner of six years, taps into the personal growth that martial arts affords while reckoning with the toxicity associated with beating people up. But Casey's story ultimately isn't about physical or spiritual enlightenment. It's just about one awkward man trying to make sense of (and survive in) a dangerous world. You'll laugh until you knock yourself out.
The Art of Self-Defense is in theaters on July 12.