Before 'Hail Caesar!', Catch Up on 30 Years of Coen Brothers With This Supercut
Make sure to check it out before you see the new one' this weekend.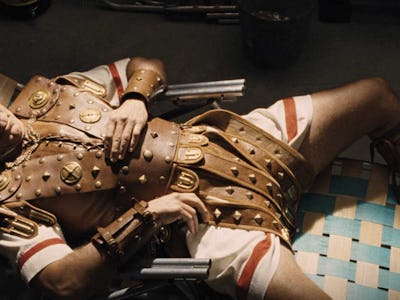 www.facebook.com/HailCaesarMovie
Do you love idiosyncratic American film auteurs? Are you headed to the movie theater this weekend to see the Coen brothers' latest, Hail, Caesar! because you have nothing to do? Inverse's own Winston Cook-Wilson called Hail, Caesar! "a flawed and patchy movie," but also "a great one." So if you're a Joel and Ethan Coen fan, or even an eager newbie, you'll enjoy this brief, six-minute supercut spanning their entire career.
The clip, entitled "COENS | 30," weaves in and out of all of their 17 feature films. It goes from the most recent masterpieces like Inside Llewyn Davis to the early hits like Raising Arizona. Every phone call, every swear word, every fierce character glance, every dance sequence, every emotional breakdown, every great moment featuring The Dude — it should not be missed.
It's kind of bizarre to think that these dudes have been doing their thing since the get-go over three decades ago. From their beginning in Blood Simple straight on through to Hail, Caesar! they've done things their way. Sometimes it gets you Intolerable Cruelty or The Ladykillers, other times it gets you No Country for Old Men or Fargo.
Watch the clip below:
The video comes courtesy of YouTube channel "somersetVII,", which also has a bunch of other supercuts on its YouTube page. It ranges from the specific, like this great Stanley Kubrick retrospective, to a collection of the best cinematic space moments, or a nearly 10-minute ode to baseball on film. Take your pick.
Just be sure to watch before you see Hail, Caesar! by the Coen brothers, which is in theaters right now.