Where to Watch Maya Hawke, From Robin in 'Stranger Things 3' to 'Ladyworld'
Netflix's latest breakout star is far from gone. Here's where to see Maya Hawke next.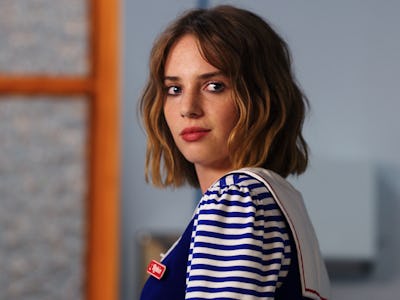 Netflix
Now that Robin is done scooping ice cream at the Starcourt Mall, fans of the newest face in Netflix's Stranger Things Season 3 may wonder where to catch breakout star Maya Hawke next. If you're what the kids call a "Robin stan," brace yourselves: There's a whole lotta Hawke coming to the big screen.
While Maya Hawke is new to Stranger Things, her family is far from strangers to acting. Not only is the 21-year-old actor the daughter of Ethan Hawke and Uma Thurman, but she's also the great-great-grandniece of playwright Tennessee Williams. During the weekend Stranger Things premiered its third season, Ethan Hawke went ultra theater dad and hyped his daughter's role on Instagram.
Hawke studied at the prestigious Juilliard School before dropping out to appear in the BBC miniseries Little Women. "Robin" in Stranger Things was her second professional role. And it won't be her last.
Spoilers ahead for Stranger Things Season 3.
Why Fans Love Robin
Besides the fact that she's fun, ultra-competent, and knowledgeable about obscure DC Comics lore, Robin became a new fan-favorite in Stranger Things through her rapport with Steve Harrington (Joe Keery) and her emotional coming out as a queer individual. One of her first lines, "Hey dingus, your children are here" became Twitter's favorite catchphrase almost overnight.
But as great as Robin is, fans realize that she only came to life because of Maya Hawke, who leapt through the screen and demanded viewers' attentions. Well, she has it, so here are some upcoming films to get more glimpses of Hawke.
Where to Find Maya Hawke Next
Hawke will next appear in Quentin Tarantino's Once Upon a Time in Hollywood, the famed director's highly anticipated comedy-drama coming July 26. Set in 1960s Hollywood, the film follows two best friends who find themselves in orbit of Sharon Tate's gruesome murder. Hawke will play "Flower Child," a member of the Manson Family cult.
After Once Upon a Time in Hollywood, Hawke will appear in Ladyworld. An all-female retelling of the 1954 novel Lord of the Flies, the film explores the moral decay of eight teenage girls who are trapped in a house together after a massive earthquake.
The film made is premiere at Fantastic Fest in Austin, Texas last year. Cleopatra Entertainment acquired the North American rights to the film, and will release the movie in theaters for the weekend of August 2.
Hawke plays "Romy," one of the main eight girls. You can watch Hawke as Romy in the clip below.
And After That?
Hawke's next two projects are in varying stages of post-production: Human Capital, a remake of the 2013 Italian film of the same name (itself based on a 2004 novel by Stephen Amidon); and Mainstream, a "romantic drama" directed by Gia Coppola (of the famed Coppola family) and starring Andrew Garfield, Nat Wolff, Jason Schwartzman, and Johnny Knoxville.
Little is known about Hawke's role in Mainstream except that her character is named "Frankie" and wears Juggalo-esque makeup in one of the film's official Instagram posts. The film's official Instagram also confirmed that production concluded on June 14, 2019. A release date is currently unknown.
Stranger Things Season 3 is streaming now on Netflix.