'Apex Legends 2' Will "Never" Happen — Here's Why That's Great News
Respawn has the right perspective on making 'Apex Legends'.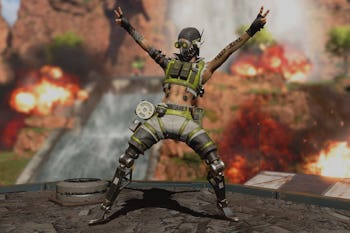 Respawn Entertainment
We're on the verge of a new era in gaming, and Apex Legends developer Respawn Entertainment is taking a big step forward by admitting that a direct sequel to Apex Legends is "never" going to happen. The company's holistic appraisal of the game it's making — the most polished and competitive live service battle royale game around — bodes well for its future.
In an interview published with US Gamer earlier this week, executive producer Drew McCoy spoke about developing the franchise, saying, "We're never gonna make an Apex 2."
This is a refreshing bit of honesty from Respawn, which already has a great reputation of being open with fans. Developers and community managers are very active on the Apex Legends subreddit, chiming in on random posts and working with the community to improve the game. They keep a running list of issues and update players constantly. That level of transparency goes a long way. McCoy admitting that developing a direct sequel to Apex Legends isn't even being considered shows that Respawn approaches their franchise in a different way.
"We're thinking years ahead at this point," McCoy told US Gamer. "We do believe in this game as a live game. … That's kind of where our head is at: How are we setting this up for the long term?"
Rather than even consider a sequel, McCoy instead joked about "Season 72" many years from now. Even if Apex Legends isn't on top right now, their public approach to community engagement outmatches their competition by far.
Apex Legends is still a very young game, having only been surprise-released in February of this year. It's one of few live-service battle royale games out there, with Fortnite being the most successful and PlayerUnknown's Battleground (PUBG) being the first. These developers and their publishers are still figuring out what these types of games look like, how to keep fans engaged, and the best ways to keep making money. Apex Legends' popularity may have waned after a lackluster Season 1, but at least Respawn is honest about what kind of game it's making.
These live games occupy an interesting middle ground between MMO and traditional action shooters. Opting for a seasonal game structure as opposed to direct sequels makes more sense. Otherwise, half of the game developers at a company are focusing on making a sequel while the other half focus on maintaining the active game. Drew McCoy and the rest of Respawn know that this would be a mistake. Being open about this choice proves that even if Respawn's battle royale game isn't as popular as Epic Games' Fortnite, the company gets bonus points for honesty.
Fortnite is facing an identity crisis as developers focus on entertaining casual fans in a way that irritates pro players. Seasonal map changes and new weapons shift the game's meta enough that competitive play is often disrupted. Epic also recently began to encrypt its game files to win the war against data-miners and leakers.
All this while the game is still supposedly in "early access," a ridiculous label that's meaningless today and a vestigial holdover from a former era in gaming. Fortnite reportedly made Epic Games $3 billion profit in 2018. Who are they kidding? That game is not in early access anymore. Pretending otherwise at this point just feels dishonest and misleading.
MMO-lite games like Destiny also don't fit neatly into a space in gaming. When does Bungie decide that Destiny 3 is never going to happen and instead focus efforts on updating and expanding upon the existing Destiny 2 base? This fall's Destiny 2: Shadowkeep seems to aim for exactly that, but the future remains uncertain.
The only real reason for a live game to get a sequel is to introduce a massive overhaul to gameplay (like with the upcoming, rumored Overwatch 2). Bungie also used Destiny 2 to reset players' progress and start everyone on an even playing field, but games like Fortnite and Apex Legends don't allow the player to level up their skillsets, so that's never going to be an problem.
The real issue that live service games like Destiny 2, Fortnite, and Apex Legends have to deal with is how they adapt to next-gen consoles like the PlayStation 5 or the new Xbox system.
For Apex Legends, at least that won't mean shifting the focus over to a brand new game. Instead, Respawn will just keep trying to make Apex Legends the best it can be.
Next up is Season 2, starting July 2.
Apex Legends is currently available on PC via Origin, PlayStation 4, and Xbox One.