CBD Gummies From EMPE Are Delicious, Nutritious, and Best of All, 25% Off
Just use this special coupon code at checkout for an instant discount.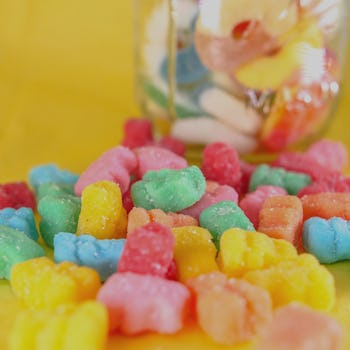 EMPE
Cannabidiol, better known as CBD, has benefits that are becoming more and more well known as medicinal and recreational marijuana gains mainstream traction in much of the US. As one of a whopping 104 compounds called cannabinoids that make up Cannabis sativa, it may seem relatively humble, but it packs a substantial wallop in the fields of pain relief and other kinds of treatment, without any of the psychoactive side-effects found with THC. This makes CBD oil (made by taking CBD extracted from a cannabis plant and mixing it with coconut oil, hemp seed oil, or some other solution) a premium ingredient for various vitamins and supplements — products like these delicious CBD Gummies made in the USA by EMPE. And right now, you can get 25-percent off your order with the coupon code listed below.
EMPE offers gummies in a variety of shapes and formulations, but you can't beat the classics, and Gummy Bears are classics for a reason. Their standard CBD Gummy Bears come in two concentrations: 500mg and 1150mg, both of which boast the classic Gummy Bear flavor you probably remember from your misspent youth, and with other natural ingredients that purportedly promote calm, anti-anxiety properties in addition to the active CBD oil ingredient. And a jar of these delicious treats, recommended in servings of one or two pieces, starts at $49.99.
If you're keeping to a strict vegan diet, EMPE has a special line of Gummy Bears for you. EMPE Vegan Gummy Bears also have a higher concentration of CBD at 750mg or 1500mg, each Bear coming packed with 25mg of calming, relaxing, therapeutic CBD oil in the mix. Their organic, vegan ingredients include:
Organic cannabidiol
Organic evaporated cane juice
Organic corn syrup
Organic white grape juice concentrate
Pectin sodium citrate
Citric acid
Ascorbic acid
Natural flavors
Natural colors (including annatto, turmeric, grape juice concentrate, red fruit juice concentrate)
All of EMPE's gummy products are designed to be convenient and easily enjoyed on the go, to make it as simple as possible to incorporate them into your daily routine - or even to enjoy them multiple times a day, while staying under the threshold of three pieces every six hours.
EMPE USA is a leader in the fast-growing CBD industry, with a wide variety of CBD-infused products that pass on the oil's therapeutic properties for ailments like arthritis, nausea, anxiety, and general pain. Not all CBD brands are created equal, and EMPE stands out for a variety of reasons, like where its hemp products are grown, safely and organically in the USA, with THC levels certified at less than 0.03 percent, the maximum THC level for any CBD product from any respectable company in the field.
While we've focused on EMPE's CBD Gummy Bears, you can find a much wider cornucopia of CBD-infused delicacies at the company's official site. So click here to check out EMPE's CBD products today, and get 25-percent off at checkout with the coupon code"EMPE25".