Snag These Pure CBD Gummies at 25% Off
Ease Your Ailments With These Tasty Treats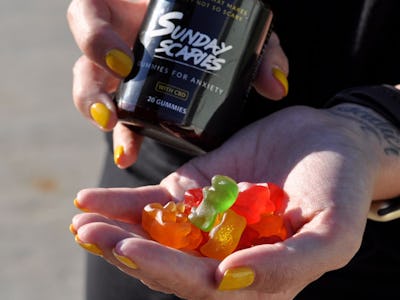 StackCommerce
The Details:
Hemp-based CBD sourced from family farms in Colorado
Have the potential to ease pain, stress, and anxiety
Packed with B12 and B3 vitamins
Made with coconut oil—good for cholesterol and blood sugar
Sweetened with pure cane sugar for an authentically good taste
Contains zero THC
Why You Want It: Though still waiting on FDA approval, CBD has garnered an immense word-of-mouth following, showing potential to ease anxiety, stress, chronic pain, and other ailments. Made with pure hemp-based CBD, these Sunday Scaries are perfect if you want the calming effects of marijuana without the paranoia that often comes with THC. The gummies are also made with vitamins and coconut oil, making for a tasty treat that actually sports some nutritional value to boot.
The Deal: Assuming you've consulted your doctor about CBD use and it's legal in your state, you should take a look at what the Inverse Shop is currently running these for—25% off the $39.99 MSRP gets you 20 gummies (about 10 daily doses) at just $29.99 out the door.